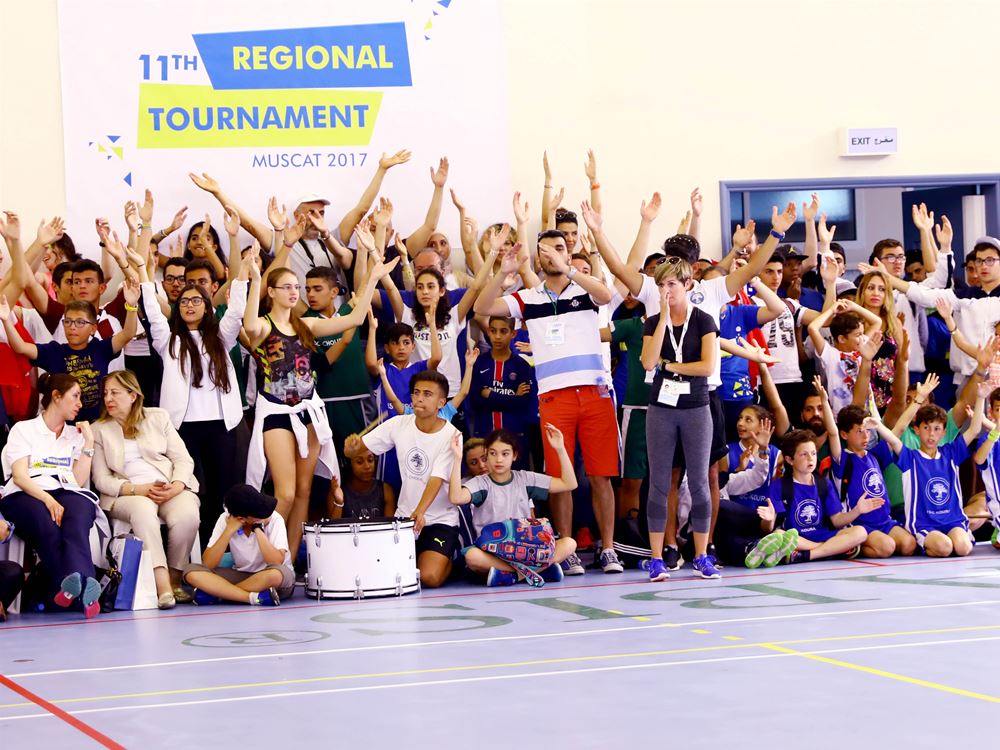 From April 21-23, 2017, the highly anticipated 11th SABIS® Regional Tournament took place at the International School of Choueifat – Muscat (ISC-Muscat) in Oman. The tournament, which is held every other year, attracted approximately 1,000 student athletes from 24 SABIS® schools in 14 countries around the world including Azerbaijan, Bahrain, Egypt, Germany, Jordan, Kurdistan, Lebanon, Oman, Pakistan, Qatar, Romania, Saudi Arabia, Syria, and the U.A.E.
The SABIS® Regional Tournament is a sports tournament that allows students in SABIS® schools to showcase their athletic talent, team spirit, and true sportsmanship through organized competitions. This year's tournament included contests in 28 different categories in four sports: basketball, football, track & field, and swimming.
The event kicked off with an opening ceremony that welcomed all athletes and included VIP guests such as H.H. Al Sayyid Taimur Assad Tariq Al Said, Research Council, Assistant Secretary General in Communication, as well as members of the Ministry of Education and the Ministry of Sports, school owners, parents, community members, and more. Guests watched elaborate performances by the official Omani Air Force Marching Band, horseback riders, and ISC-Muscat students. Following the performances, the audience was addressed by Mrs. Fatma Abdulabbas Noorani, Director General of Private Schools at the Omani Ministry of Education, SABIS® Vice President Victor Saad, and ISC-Muscat School Director Armen Mansourian.
In his speech, Victor Saad urged "all our treasured competitors who have traveled to be with us today to know that when they explode from the starting blocks, plunge into the pool, or score those vital goals, they will not just be doing so to raise flags, win medals, or please coaches […] they will also be upholding timeless sporting values. Winning is, of course, important, but creating treasured experiences is of such greater worth."
The tournament was an unequivocal success, with students from SABIS® schools treating the audience to an awesome showcase of their strength, endurance, and athletic prowess. The competition was fierce and the judges were impressed by the high level of sportsmanship witnessed at the event. When they weren't competing, students were busy cheering on their fellow teammates, making friends, and learning about new cultures.
All participating schools had their share of victory as medals were awarded to winning teams for their hard work and success. In basketball, the audience witnessed close match-ups resulting in ultimate victory for the ISC-Cairo girls' team and the ISC-Choueifat boys' team. ISC-Koura boys and the ISC-Muscat girls dominated the football (soccer) pitch and came in first place in their competitions.
The swimming and track & field competitions were fierce, with 10 new records set, three in track & field and seven in swimming, out of a total of 24 contests. Students from Egypt, Germany, Jordan, Saudi Arabia, Lebanon, Oman, Qatar, Romania, and U.A.E. brought their best to the competition and took home gold medals for their success. They also set a high bar for future competitors.
In the closing ceremony, Neil Snooker, Deputy Regional Director of SABIS® schools in the Gulf region commented, "Regardless of whether you have won or lost, I commend you all for your team spirit, sportsmanship, and the mutual respect you have shown to one another. Congratulations to all of you as you are all winners [……]. May you always reflect on this tournament in a positive way, and may the friendships made and lessons learned here endure."
Watch this video from the tournament and experience the excitement that dominated the event!
To see more photos and watch videos from the 11th SABIS® Regional Tournament, visit regionaltournament.sabis.net.