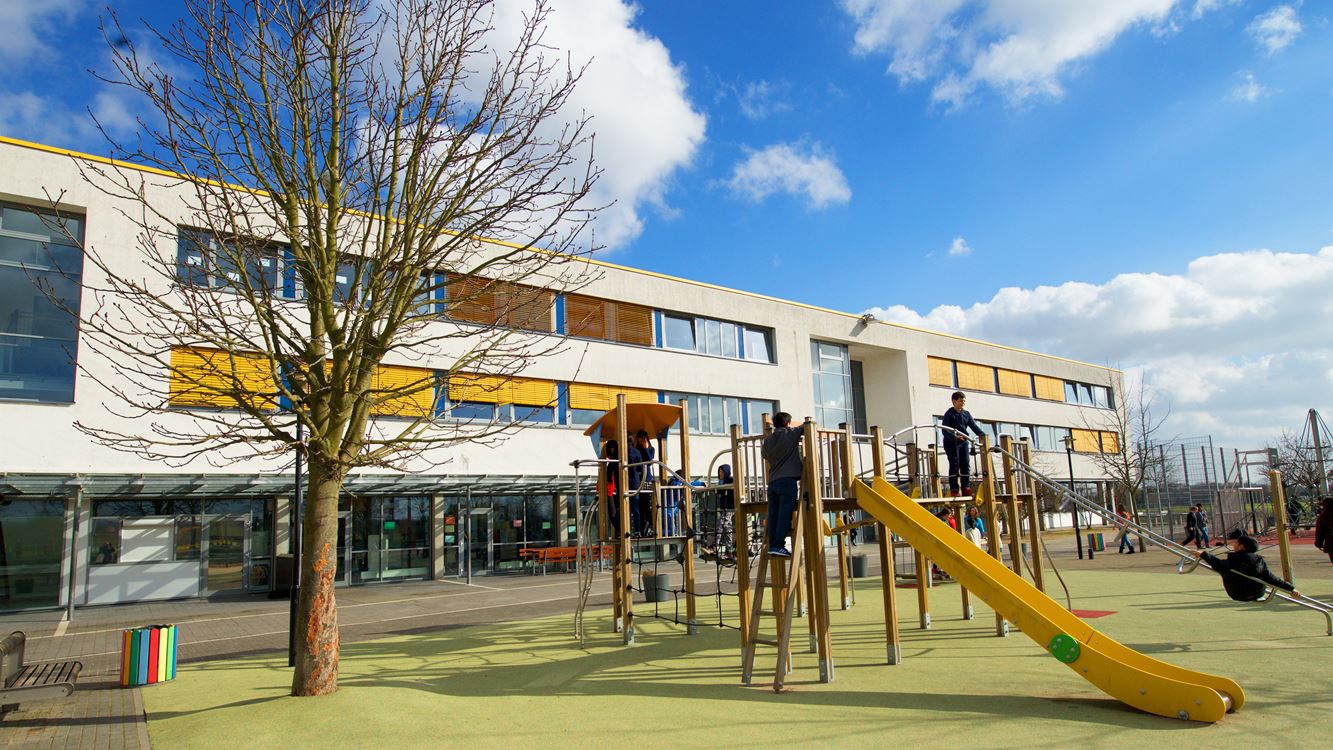 Located in Frankfurt, Germany, ISF International School Frankfurt Rhein-Main (ISF) is a member of the global SABIS® Network. The school was founded in 1995 by the city of Frankfurt, the state of Hesse, and several multinational corporations in order to meet the needs of the growing international community in the area. The private, co-educational, day school enrolls students from Kindergarten (age 3) through Grade 12 and implements the SABIS® Educational System™. Over the 22 years of its operation, ISF has established itself as one of the top international schools in Frankfurt.
Academic Achievement
As a member of the global SABIS® Network, ISF gives students a solid academic foundation and the essential life skills needed to achieve success. The school's outstanding performance on a variety of external, international exams — including U.S. Advanced Placement® (AP®), International General Certificate of Education (IGCSE), and the International Baccalaureate (IB) — speaks volumes. In IGCSE, the school's 5-year average of A*-C is 91%; in AP® exams, the school's 5-year average of exams scoring 3, 4, or 5 (the top scores) is 97%; and the pass rate for the IB Diploma averages 98%!
ISF students are regularly recognized for their external exam performance. This year alone, four ISF students received Cambridge Outstanding Achievement Awards for the highest mark in Germany in English Literature, mathematics, economics, French, and physics.
University Acceptances
Having shown outstanding academic achievement, ISF students are accepted to top universities around the world, including the prestigious University of Cambridge and University of Oxford. Around 20% of the ISF graduates choose to stay in Germany and pursue their studies at German universities. What is particularly interesting is that of those students who choose to stay and pursue their studies at German universities, only half of them are native German-speakers. The remaining half have the level of fluency required thanks to the high level of German proficiency they acquired during their time at ISF!
(At ISF, the main language of instruction is English, with German classes taught daily to all children [including those in Kindergarten] from beginner to native-speaker level. Students choose French or Spanish as a third language of instruction beginning in Grade 6.)
The majority of ISF students wishing to pursue studies at a German university do so by earning the full IB Diploma (i.e., studying and passing six subjects concurrently). This qualifies ISF graduates for general admission to any German university faculty or subject (Allgemeine Hohschulreife), and as long as certain criteria are fulfilled, ISF students can obtain an "Abitur" equivalent from the Ministry of Culture in Wiesbaden with their IB Diploma.
Click here for a full list of ISF's Class of 2016 university acceptances.
Music, Arts, & Sports
Beyond academics, ISF offers students enriching music, arts, and sports programs that allow them to develop into well-rounded individuals with a wide range of interests and passions. ISF students are offered the opportunity to learn how to play musical instruments, express themselves through art, and participate in afterschool sports clubs.
The ISF Music Department hosts a variety of concerts allowing students the opportunity to preform regularly and develop their artistic skills. In the middle school, the "music ensemble" program has proven to be a great success, exposing students to a wide range of musical instruments such as the guitar, keyboard, string, or woodwind instruments. Older students perform "salon concerts," which are modeled after the historical tradition of the artistic salon, an event at which new music, art and works of literature are presented to patrons and other artists, usually in a private home.
ISF students also have the opportunity to take part in annual musical and theatrical productions. Some of the best shows have included The Mad Adventures of Mr.Toad, Beauty & the Beast, The Rivals, Grease, Mama Mia, We Will Rock You, and The Fantasticks.
ISF also offers students an enriching arts program that helps develop their appreciation for visual art. Throughout the year, student artwork can be seen displayed beautifully around the school in celebration of students' artistic talents.
ISF students are also encouraged to participate in sports. They can choose from a wide variety of sports including swimming, basketball, badminton, gymnastics, football, and volleyball. After-school sports, run by the ISF Sports Club (ISF Sportverein Sindlingen), ensure that the fun does not end with the school day!
SABIS Student Life Organization®
Alongside enriching art, music, and sports programs, ISF students also enjoy an active and engaging school life. Students are encouraged to join the SABIS Student Life Organization® (SLO®) and with 8 SLO® departments — Academics, Discipline, Management, Sports & Health, Activities, Outreach, Lower School, and Social Responsibility — there is something for everyone!
At ISF, the SLO® Academic Department plays a particularly valuable role, encouraging students to take an active role in their education as well as the education of their peers. Shadow Teaching® is the perfect example of how this is realized in the school.
Shadow Teachers® are students who volunteer to prepare a lesson ahead of time and deliver the prepared material to the class with the support of their teacher and SLO®. Any student can be a Shadow Teacher®, provided they have proficiency in the subject material, a willingness to learn independently, and the ability to work with the class teacher to ensure the delivery of a good lesson.
This year, ISF held its first Shadow Teaching days in Term 1. Over 150 students from Grade 3 up to Grade 12 prepared and delivered lessons over a two-day span. The experience was a huge success and inspired many students to volunteer to be Shadow Teachers®.
Another way the SLO® Academic Department helps students at ISF is through Power Study Sessions. These sessions are offered to all students in grades 5 through 12 and are organized and delivered by students who are willing and able to offer assistance in English, German, math, science, and social studies. If students have questions, they simply approach these "expert students." If the expert is unable to answer a question, a teacher is on hand to act as back up.
Giving Back: The Kenya Project
Contributing to the lives of those less fortunate has been part of the fabric of ISF since the school's inception and continues today through several different projects both on a local and global scale. The longest-running ISF community service project is the ISF Kenya Project e.V., which started in 1999. The ISF Kenya Project aims to raise funds for the operation of the Chitsanze Primary School, a rural, co-educational school serving about 300 students in Kindergarten through Grade 8.
ISF students work to raise funds to help pay for school operating expenses and much-needed school supplies. To date, ISF funds have helped pay for the installation of a water tank, the construction of sanitary facilities, roof repair, and the purchase of basic medical equipment at the school, as well as build classrooms, a staff room, a library, and an administration office. Most recently, funds raised by ISF went toward the construction of a shaded area for parent-teacher meetings and a fence to secure the entire school compound.
Inkwell
Another notable project that takes place at ISF is the Inkwell, a school magazine that is produced annually and showcases students' creative writing, artwork, and photographs.
The Inkwell is produced by an editorial committee consisting of students in grades 11 and 12. These students enjoy the real-life, hands-on experience they live when putting the Inkwell together. From gathering work that is submitted, to short-listing, selecting, and editing the articles, these students carry a large and wonderful responsibility. From there, the text is handed over to other students who design and lay out the magazine.
A Supportive Environment
With families from more than 50 different countries around the world, ISF is a close-knit community and a home away from home. While the entire ISF community is involved in welcoming new families and helping them settle in, the ISF Parent Network (PN) plays an integral role in welcoming new families and helps them integrate into the school community.
Parent volunteers from 32 different nations act as country representatives, helping new families settle into their new community. These parents also organize numerous events throughout the year including Halloween parties, International Day, "Fasching" (Carnival), and the annual ISF Sommerfest.
At ISF, everyone is involved and dedicated to the welfare of the students and their success. With a history of success that extends over 22 years, ISF equips students with a solid academic foundation and the life skills needed to achieve success in university and beyond. If you would like to learn more about ISF, visit isf.sabis.net.