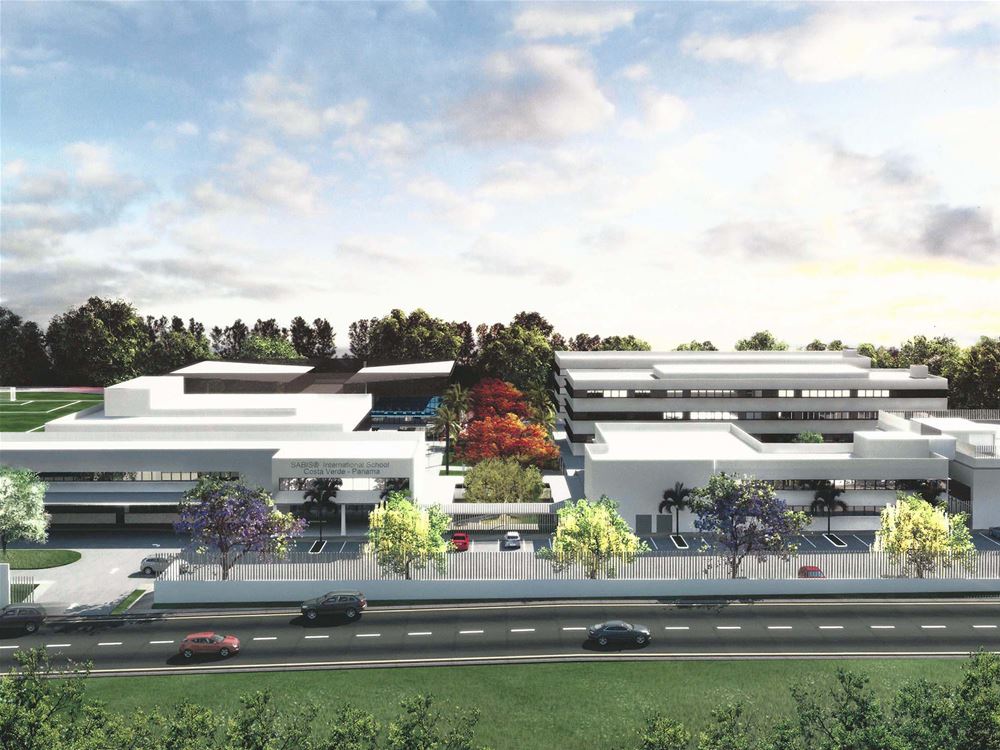 Currently, the SABIS® Network has an active presence in 20 countries on five continents and serves over 70,000 students. Having started with one village school in a suburb of Beirut, Lebanon, the network actively seeks to expand the number of students who have the opportunity to achieve their full potential through the proven SABIS® Educational System™.
The newest school to join the network will be the SABIS® International School – Costa Verde in Panama, which will open in September 2017 and welcome students in Pre-Kindergarten through Grade 4. The private, co-educational school, which will add a grade level in each year of its operation until it reaches a full Pre-K through Grade 12 offering, will offer English as the language of instruction, and all students will also learn Spanish on a daily basis.
The school, which is part of the Costa Verde Development Project and located ca. 30 kilometers west of Panama City, is situated on a 5.7 hectare campus. Construction is currently winding up on Phase I of new, state-of-the-art facilities that include academic buildings for Kindergarten and Lower School students, a mini gymnasium and playground dedicated for Kindergarten students, a gymnasium and playground for Lower School students, and an administration building. Phase II of construction will take place as the school grows. Take a virtual tour of the proposed campus by clicking here.
SABIS® counts down to the opening of a SABIS® school in Panama.
Preparation for the opening of SIS-Costa Verde has involved more than construction of the campus; SABIS® has also been busy hiring and training staff and teachers. As in all SABIS® schools, SIS-Costa Verde will implement the proven SABIS® Educational System™. This system includes a rigorous, international curriculum, proprietary teaching methodologies, SABIS®-generated books in traditional and E-format, frequent assessment, and an engaging SABIS Student Life Organization®. To ensure that all staff are familiar with the SABIS® approach, training has been ongoing since March 2017.
"The decision to open a school in Panama came about as a result of a growing demand from parents in the region for a top-quality, international education for their children," explained SABIS® President Carl Bistany. "We are pleased to meet this demand with the opening of SIS-Costa Verde in September and are confident that the school will help all students achieve their full potential."
Readers interested in learning more about SIS-Costa Verde should visit siscostaverde.sabis.net or call +507 209-2606 / 209-2609. To complete an application form and secure a place for your child, click here.
Joining SIS-Costa Verde among the network's premium private international schools on the horizon are two new schools planned in Africa: The SABIS® International School – Nairobi (SIS-Nairobi) in Kenya and the SABIS® International School – Pretoria (SIS-Pretoria) in South Africa. With a target opening date of September 2018, construction of the SIS-Nairobi school campus is well underway. SABIS® is also currently in the process of acquiring land in South Africa to serve as the site of the SABIS® International School – Pretoria. Initial estimates have identified an opening date of September 2019 for the school. Both SIS-Nairobi and SIS-Pretoria are the product of Africa Crest Education (ACE), a tri-partite consortium that includes Centum Investment Company, Investbridge Capital, and SABIS®. Drawing on the expertise and experience of its partners, ACE is working to establish a number of SABIS®-managed schools across Africa.
Making a SABIS® education accessible to students throughout the socio-economic spectrum, SABIS® offers Cadmus International Schools, which are designed to serve aspiring middle-class parents who are value-conscious but not willing to compromise on quality. Cadmus Schools implement the same, proven SABIS® Educational System™, but do so at a lower cost due to more modest campus facilities. Cadmus International Schools are currently under development in Duhok, Kurdistan (targeted opening date of September 2018) and Cairo, Egypt (September 2019).
Plans are also underway for a Cadmus school in Baghdad, which will be located on the University of Baghdad campus, a beautiful landmark centrally located in the Iraqi capital. With an expected opening date of September 2018, Cadmus International School – Baghdad will accept students in Kindergarten through Grade 4 in its first phase, adding one additional grade level each academic year until it reaches a full K-12 offering. Read more about developments of Cadmus International School − Baghdad here.
To stay up-to-date with the network's latest expansion news, follow us on our official Facebook page.
New SABIS® schools set to open in Kenya, South Africa, Kurdistan, Egypt, & Iraq