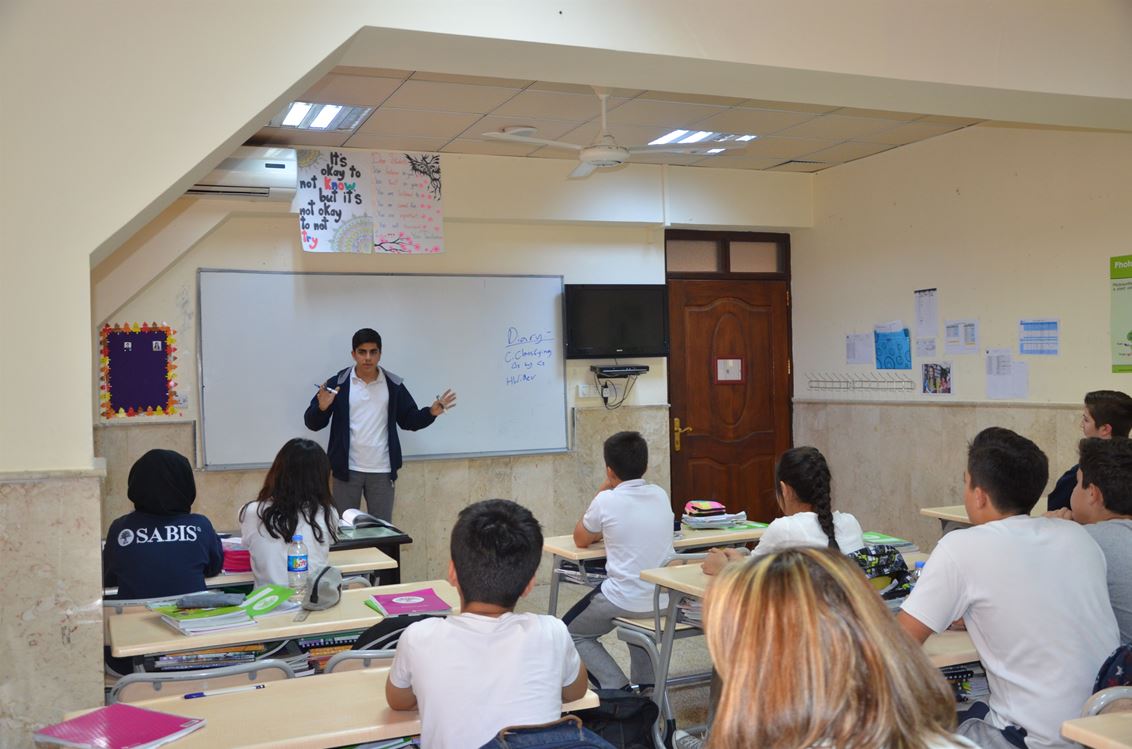 The SABIS Student Life Organization® (SLO®) is a distinctive and integral part of daily life at SABIS® Network schools around the world. Through involvement in eight SLO® departments (Academic, Discipline, Management, Sports & Health, Activities, Outreach, Lower School, Social Responsibility), students have the opportunity to develop important life skills, improve academic standards, and get involved in their school community.
One example of how students play an active role in their school community is the Shadow Teacher® program. Shadow Teachers® are students who excel in specific subjects and who volunteer or are chosen to assist their teacher by conducting a lesson after thorough training and preparation. The Shadow Teacher® program not only helps ensure that learning continues even in the event of teacher absence, but also offers a real-life context in which students can develop self-confidence and practice leadership, presentation, and organization skills.
There are numerous examples from around the SABIS® Network of just how valuable and effective Shadow Teaching® is:
At the International School of Choueifat − Lahore (ISC-Lahore) in Pakistan, Shadow Teachers® acquire necessary skills throughout the year. They practice public speaking and leadership skills, which assist them in delivering the material in a classroom setting. They also learn how to organize content so that it can be taught in an effective and efficient way. Having acquired the skills needed, Shadow Teachers® at ISC-Lahore have a specially-designated event in which to showcase their skills: Shadow Teachers®' Week. From October 24-27, 2016, and on November 1, 2016, over 200 ISC-Lahore Shadow Teachers® in grades 2-12 successfully led lessons.
At the International School Frankfurt Rhein–Main (ISF) in Frankfurt, Germany, Shadow Teaching® has been used to boost preparation for final exams. This year, ISF students in grades 3 through 9 were given the opportunity to act as Shadow Teachers® to help their classmates prepare for final exams. Approximately 150 lessons were taught by Shadow Teachers® who reviewed and clarified material covered throughout the term.
In Kurdistan, Iraq, Shadow Teaching® proved to be particularly valuable. On the first day of school after the winter break, a number of ISC-Erbil teachers and staff who had gone on vacation were unable to fly back to Kurdistan due to poor weather conditions in the region. Fortunately, ISC-Erbil Shadow Teachers® jumped in to assist the school's alumni who had volunteered to help, and together they were able to save the day, leading the classes until the teachers could return. "Our alumni and ISC-Erbil Shadow Teachers® did an amazing job and exceeded all our expectations," commented Mr. Stephan Kleynhans, ISC-Erbil School Director. "This was a truly inspiring experience that shows the strength of the Shadow Teaching® program and the collaborative spirit that exists in our school community."
Public-Private Partnership (PPP) schools in Kurdistan have also caught on to Shadow Teaching®. At Sardam International School, students are so excited about Shadow Teaching® that the school is holding weekly Shadow Teaching® workshops throughout the academic year for students in grades 3-10. During the workshops, Shadow Teachers® are trained to teach English, math, science, and Arabic under the supervision of their teachers and school staff.
"We are so glad to have this opportunity to display our skills in front of other Shadow Teachers® and school staff," said Zaid Mohamad, a Shadow Teacher® in Grade 10.
Shadow Teaching® workshops are also being set up at Linwood Public Charter School (LPCS), a SABIS® public charter school located in Louisiana, U.S. In response to students' interest in Shadow Teaching®, the school regularly organizes special workshops for students in grades 6-8 to improve their communication and leadership skills and help them become more impactful as a positive role models in the classroom.
Shadow Teaching® in all SABIS® Network schools around the world empowers students and equips them with the skills needed to shape their personality, improve academic standards, and prepare them for the future. Through Shadow Teaching as well as other SLO® initiatives and activities, students develop confidence, motivation, compassion, and ambition.
If you would like to learn more about how SLO® is making an impact in schools and their communities, visit the "In the News" section on sabis.net.