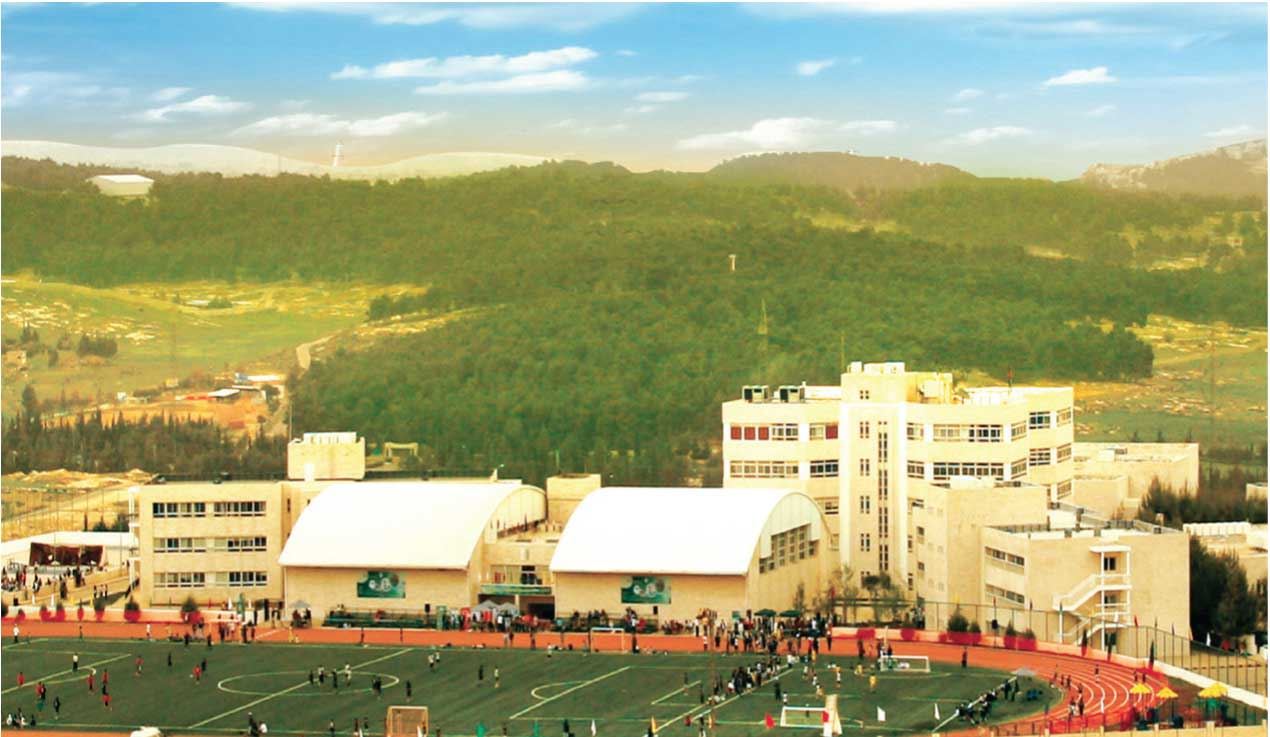 Celebrating 20 Years of Achievement!
The International School of Choueifat – Amman (ISC-Amman) in Jordan opened its doors in September 1997 to Jordanian and international students in Kindergarten through Grade 12. Over the next two decades, the school grew to nearly 1,500 students and became an integral part of the community.
ISC-Amman celebrates 20th anniversary this year
Throughout the 2016-17 academic year the school has planned a series of events and festivities in celebration of its 20th anniversary. If you would like to learn more about these events, please follow the school's Facebook page.
Academic Achievements
ISC-Amman is a member of the global SABIS® Network and implements the SABIS® Educational System™, a comprehensive academic program that has been developed and refined for over a century. The system gives students a solid foundation of knowledge and skills that prepare them for success in a changing world.
ISC-Amman offers a challenging, college-preparatory curriculum that prepares students for a wide range of external examinations - Advanced Placement® (AP®), Scholastic Aptitude Test (SAT), International General Certificate of Secondary Education (IGCSE), and Advanced Level (A Level). Outstanding performance of ISC-Amman students on these external examinations has gained the school and its students public recognition. In fact, in February 2016 under the patronage of His Royal Highness Prince Mired Bin Ra'ad, the school held a "High Achievers Award Ceremony" for students who achieved top scores in the world and in the country. Awards went to 30 ISC-Amman students who fulfilled one of three requirements: (1) earned an A* or A on IGCSE or A Level exams, (2) earned full grades in the SAT subject tests and 2,000 points or more out of 2,400 on the SAT I, or (3) scored 5 on AP® exams.
In November 2016, 19 Queen Rania Outstanding UK Learner Awards were presented to 10 ISC-Amman students for achieving top scores in the world and in the country on A Levels and IGCSEs.
Outstanding external exam performance coupled with a solid foundation of knowledge and skills position ISC-Amman graduates for acceptance to top universities in Jordan, the MENA region, and around the world. ISC-Amman graduates from 2015 and 2016 are pursuing their studies at Johns Hopkins University (U.S.), SOAS University of London (U.K.), Hotel Institute Montreux HIM (Switzerland), the University of Jordan (Jordan), and the University of British Columbia (Canada) to name a few. Their choice of undergraduate programs covers a wide range of areas including social media, architecture, medicine, hospitality management, engineering, art and design, political science, and biomedical engineering.
An Active and Engaging Student Life
In addition to offering an outstanding education, ISC-Amman offers students a rich and engaging student life. Through the SABIS® Student Life Organization® (SLO®) at the school, students benefit from a wide range of clubs, activities, and extracurricular activities that allow them to develop new skills, explore new interests, and learn the value of being active contributors to their communities. Some of the clubs and activities offered include Model United Nations (MUN), Lego®, and public speaking; academic events including spelling bees, "Wheel of Math," and Jeopardy®; sports like soccer and basketball; and activities, such as the very popular "Door Decorating Contest," "The Amazing Race," and "Blue Monster" night.
In the summer of 2016, SLO® prefects set up a summer internship program that gave ISC-Amman high school students the opportunity to complete an internship in well-reputed companies, banks, law firms, and hospitals. According to Rakan Al Majali, a Grade 11 student who participated in the internship program, "It was an enriching experience. It helped me realize that my passion toward medicine is genuine. The program allowed me to access certain sections within the hospital that I had never been to before, such as the operating room, endoscopy section, and the ICCS. I would definitely recommend this program to all the high school students. Joining the program was one of the best decisions I have made."
The ISC-Amman SLO® is also committed to making a difference in the lives of others. One of the best examples is the Habitat for Humanity project. In coordination with Habitat for Humanity Jordan, a non-governmental organization (NGO) that "helps build strength, stability, and self-reliance through shelter," ISC-Amman 9th graders volunteer to improve the housing and living conditions of low-income families in Jordan. The students who have been involved in the project put this video together about their experience.
Another example of ISC-Amman's commitment to making a difference in the lives of the less fortunate is "200 Smiles Day." On November 12, 2016, the ISC-Amman SLO® invited 200 orphans to the school and planned a day full of fun, games, and activities including soccer, jumping castles, and tug of war.
A Sense of Belonging
Among ISC-Amman's achievements is the sense of belonging that encompasses the entire school community. Efforts abound to create a fun, dynamic, and engaging school environment. For example, on "Crazy Hat Day," all students were asked to come to school wearing an original and fun hat of their choice. "Our school is fun, we love it!" exclaimed one young student that day. "Reading with the Director" is another example of a positive initiative. As part of this program, the School Director selects a book to read and discuss with each grade in the school. Students are encouraged to read the selected book and discuss their favorite characters, experiences, and how they would rewrite the ending with the School Director. Not only does the initiative help promote a love of reading, but it also helps develop a strong rapport between the students and Director.
The strong community spirit at ISC-Amman spills over at the end of the academic year into the summer. Over the summer months, many students join the school's popular summer camp. Students aged 5 to 15 can choose from a number of tailor-made summer programs including sports camps for swimming or football. There is also a summer adventure camp that includes archery, survival skills, horseback riding, outdoor living skills, and camping. Another of the school's popular summer programs is the "Discover Jordan Camp." Participants in this camp get to discover the country's rich historical heritage. The summer program at ISC-Amman also includes a specialized camp for children aged 3 to 5. The ISC-Amman summer camp is open to all students, including students enrolled in other schools. (If you would like to inquire about the camp, contact the ISC-Amman school administration at +962 6 4291133.)
To witness the strong sense of belonging and community that exists among ISC-Amman students, watch this video, entitled "We are ISC-Amman."
Cultural Awareness
ISC-Amman is committed to developing a generation of students who are culturally-aware and open to the world. International Day is a wonderful example of how the school promotes cultural awareness in a fun, positive, and inspiring manner. On Saturday, October 29, 2016, ISC-Amman held their second annual International Day entitled "Walk around the World." Students and faculty worked together to set up decorative representations of various countries around the world. Every continent was staged in a different location throughout the school, with booths providing food and cultural information. For example, the African booth was set up as though it were within an actual jungle inside the administration office; the cafeteria was converted to a complete rendition of the Asian continent; and in the Americas section, Hollywood was recreated complete with a red carpet.
Watch a short video about ISC-Amman's International Day:
For the past 20 years, ISC-Amman has delivered a high-quality education to students. The school has prepared students to succeed on external exams and helped open the door to top universities. Beyond academics, ISC-Amman's students have a strong sense of belonging, a commitment to giving back to their communities, and an openness to world cultures.
If you would like to learn more about ISC-Amman, visit iscamman.sabis.net or follow their Facebook or YouTube pages.