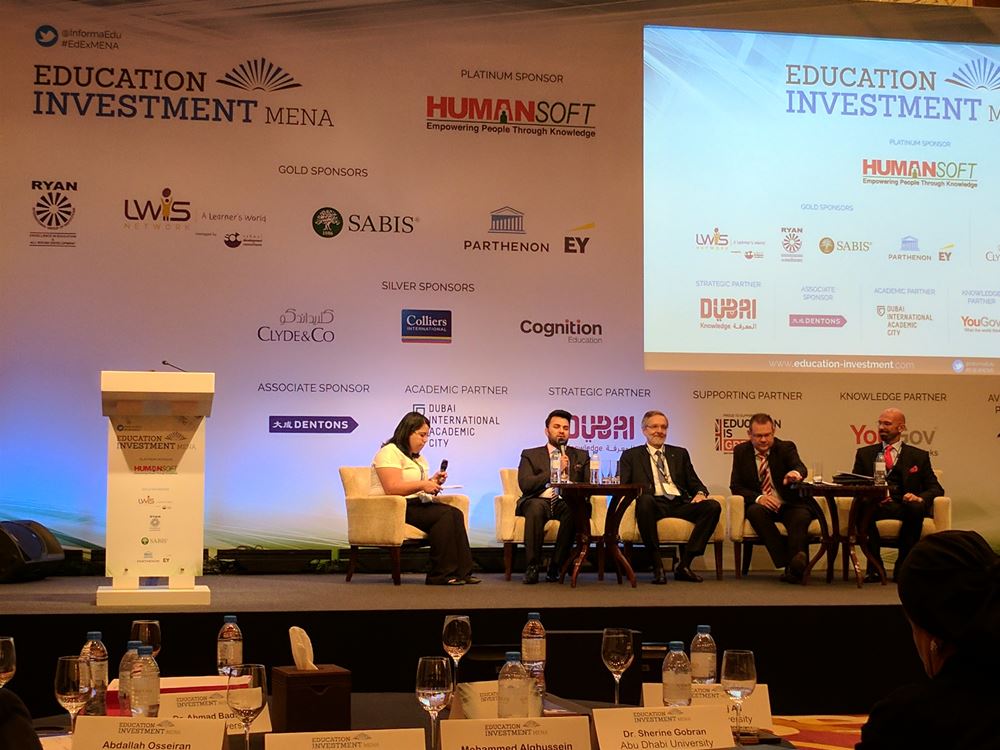 As a leader in the education industry, SABIS® is often invited to speak at conferences around the world. In November 2016, SABIS® was invited to participate once again in the Education Investment MENA Conference. Established in 2012, Education Investment MENA is the region's largest platform dedicated to creating investment and partnership opportunities for education businesses. The conference brings together regulators, ministries, educators, investors, financiers, entrepreneurs, and solution providers to seek out new investment, development, and expansion partners from across the region and around the world.
The 2016 event took place in Dubai, U.A.E., on November 22-23 and featured a number of education experts and high-profile speakers. SABIS® President Carl Bistany represented the organization at the event and participated as a panelist in "The Big Debate: What will be the biggest driver of value in education business in MENA?" Bistany discussed the value that a well-structured educational system can bring to students and the importance of providing students with a solid foundation of knowledge and skills that will equip them to achieve success in an unknown future. He also delved into the challenges faced by educational organizations when stakeholders have differing priorities.
In addition to providing a forum for SABIS® to share its experience in the education market in the Middle East, the conference also opened the door to introduce SABIS®'s latest foray into the African continent. Mark DeSario, Chief Executive Officer of Investbridge Capital, a leading private investment firm that is working with SABIS® on a project that aims to open over 10 schools in Africa over the next three to five years, spoke at the conference about opportunities in Africa that are driving K-12 education expansion on the continent. He also discussed the partnership with SABIS®, which will bring the world-class SABIS® education to Africa, and gave investors insight into the booming private education sector there.
As a successful organization with a rich history and proven track record in delivering a top-quality education to students around the world, SABIS® is often invited to share its experience at high-profile events. To stay informed about upcoming events that SABIS® will be participating in, follow us on Twitter and Facebook.