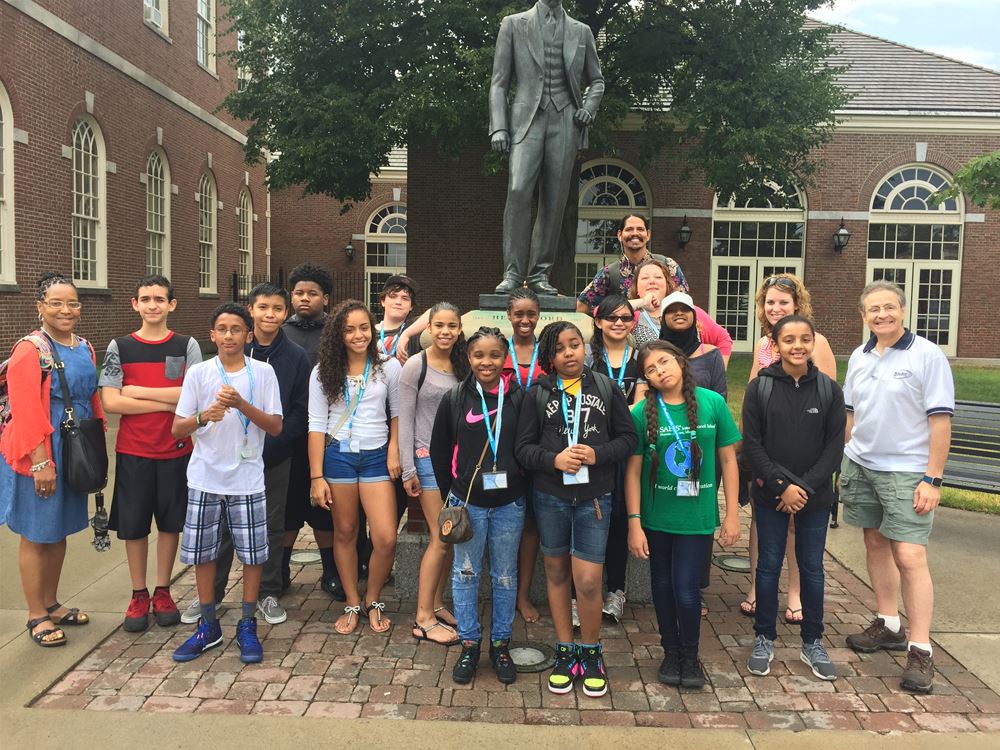 SABIS® is committed to providing a high-quality, college-preparatory education to all students in SABIS® Network schools around the world. Students of all ages have the opportunity to develop their skills through the SABIS Student Life Organization® (SLO®). Those who have the potential and desire to serve as leaders have the opportunity to apply to attend annual training camps such as the Middle School Student Life Training Camp, which is held each summer for selected SLO® prefects from the network's U.S. schools that go up to Grade 8.
The most recent Middle School Student Life Training Camp took place from July 27 to 30, 2016, in Michigan, U.S. The camp brought together 15 SLO® prefects and five Student Life Coordinators from SABIS® U.S. public charter schools including SABIS® International School-Phoenix (SIS-Phoenix), Holyoke Community Charter School (HCCS), the International Academy of Saginaw (IAS), Linwood Public Charter School (LPCS), and Mid-Michigan Leadership Academy (MMLA). The students who attended the camp went through an application process and were chosen based on specific criteria such as academic and discipline records and involvement in SLO®. Those in attendance participated in three days of workshops, seminars, and team-building activities aimed at enhancing their leadership and communication skills, among other things. Camp participants also got the chance to visit Michigan tourist attractions such as the Henry Ford Museum and Mackinac Island.
"Our expectation for the students who participated in the Student Life Training Camp is to spread their newly-acquired knowledge to all the other prefects [in their schools] through mini-camps and seminars to ensure that all prefects are trained," explained Mr. Roger Soweid, SABIS® Corporate Director – Student Life and Student Management.
Feedback from students and staff was extremely positive. One student noted that the camp had helped improve his public speaking skills; another mentioned that she had returned from the camp with more confidence in herself as a leader.
"SIS-Phoenix students who attended the 2016 Middle School Student Life Training Camp went back to school highly motivated and determined to tackle the challenge of going above and beyond this academic year. They took great delight in forging new relationships with their counterparts in other SABIS® public charter schools and benefitted from brainstorming sessions and leadership activities," said Abel Perales III, Student Life Coordinator at SIS-Phoenix.
Students who participate in the Middle School Student Life Training Camp return to their schools committed to making a difference in their schools and in their community. The skills they learn at the camp enable them to reach out to others at school and promote a healthy educational atmosphere for others.
For details about SLO®, visit sabis.net.