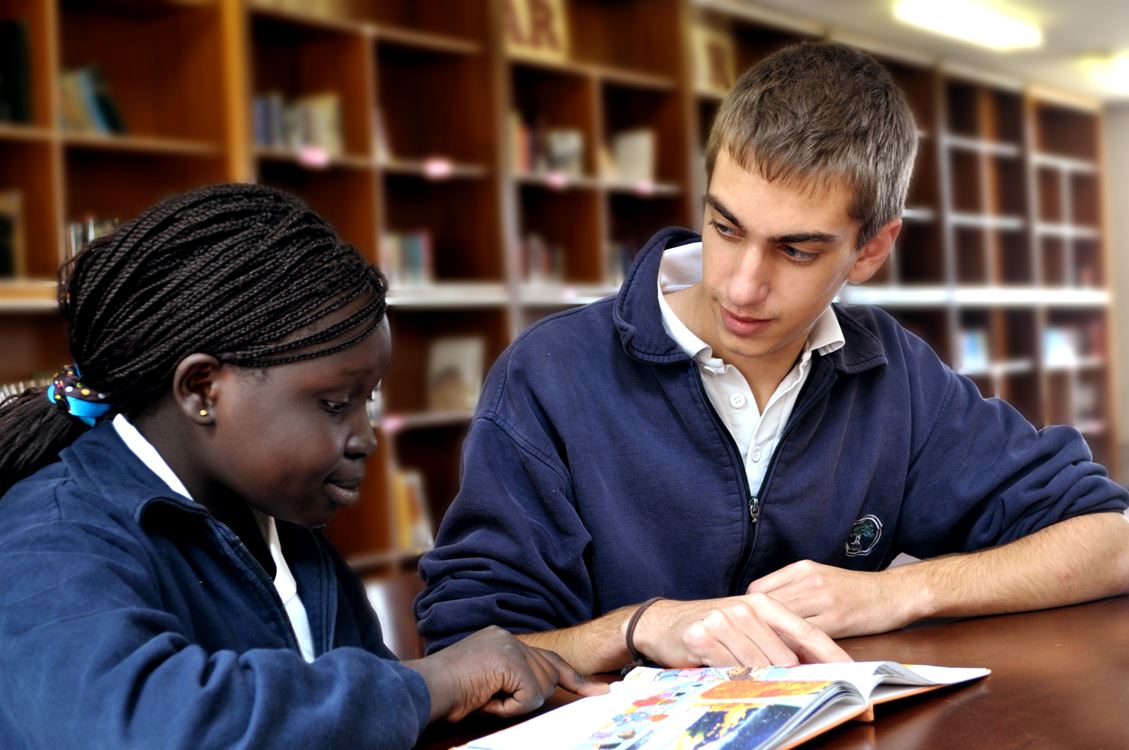 The SABIS Student Life Organization® (SLO®) is an integral part of the day-to-day experience in any SABIS® Network school. As such, students across the SABIS® Network are strongly encouraged to join SLO® and play an active role in all aspects of school life.
In addition to providing many opportunities for personal, social, and moral growth, SLO® also plays a critical role in raising the academic standards of the school. In particular, the SLO® Academic Department implements engaging academic activities – including peer tutoring, academic competitions, study groups, and Shadow Teaching® – that are designed to build students' confidence in learning and develop their academic skills.
SABIS Student Life Organization plays a critical role in raising academic standards. #SABIS
In Frankfurt, Germany, students at the International School Frankfurt Rhein-Main (ISF) fine-tune their academic skills through SLO® academic competitions. One of many annual events held at the school is the trivia challenge, with questions ranging from history and sports to food and world culture. "Students enjoyed this year's trivia challenge so much that some of them researched a topic further so that they can be prepared for the next competition," ISF Student Life Coordinator Tracy Chute said.
The peer tutoring program at the Ruwais Private School (RPS) in the U.A.E. is another example of how SLO® is helping to raise the bar of academic performance. Working together, prefects from the SLO® Academic Department and Lower School Department have dedicated their break time and weekends to helping young students become more confident about new academic concepts. "The tutors practice leadership, teaching skills, increase self-confidence, become more socially responsible and mature, and earn the great feeling of helping a fellow student," commented the school's Student Life Coordinator, Sam Horness.
Study groups can come in many forms. At the International School of Choueifat (ISC-Choueifat) in Lebanon there are study sessions that serve every students' academic needs. They include afternoon and Saturday study groups as well as specialized study groups focusing on Periodic and final exams. "Study groups have created a positive spirit among the students, encouraging them to help one another and receive help in order to improve grades and overall academic performance," said ISC-Choueifat Student Life Coordinator Zeina Abou Zelof. "More students have developed better study habits due to the extra support they have been receiving during sessions."
At the International School of Choueifat – Lahore (ISC-Lahore) in Pakistan, Shadow Teachers® have been providing additional support in the learning process. Shadow Teachers® are students who excel in specific subjects and who assist the teacher by conducting a lesson after being property trained and prepared. Shadow Teachers® can also be called upon throughout the academic year to assist a substitute teacher if a regular teacher is absent from class. "We have held an event called Shadow Teachers® Day each year now for the past two years," explained ISC-Lahore Student Life Coordinator Abdula Idilbi. "This year, 177 Shadow Teachers® in grades 3-12 confidently delivered lessons to their peers."
Whether through peer tutoring, academic competitions, study groups, or Shadow Teaching®, students in SABIS® Network schools around the world are encouraged to play an active role in their education and the education of their peers. Through involvement in the SLO® Academic Department, students help their peers succeed and raise the academic bar.
To learn more about the SABIS Student Life Organization® and the many ways it contributes to enriching students' education, visit sabis.net. Stay up to date with the most recent SABIS® news by following SABIS_EDUCATION on Twitter.