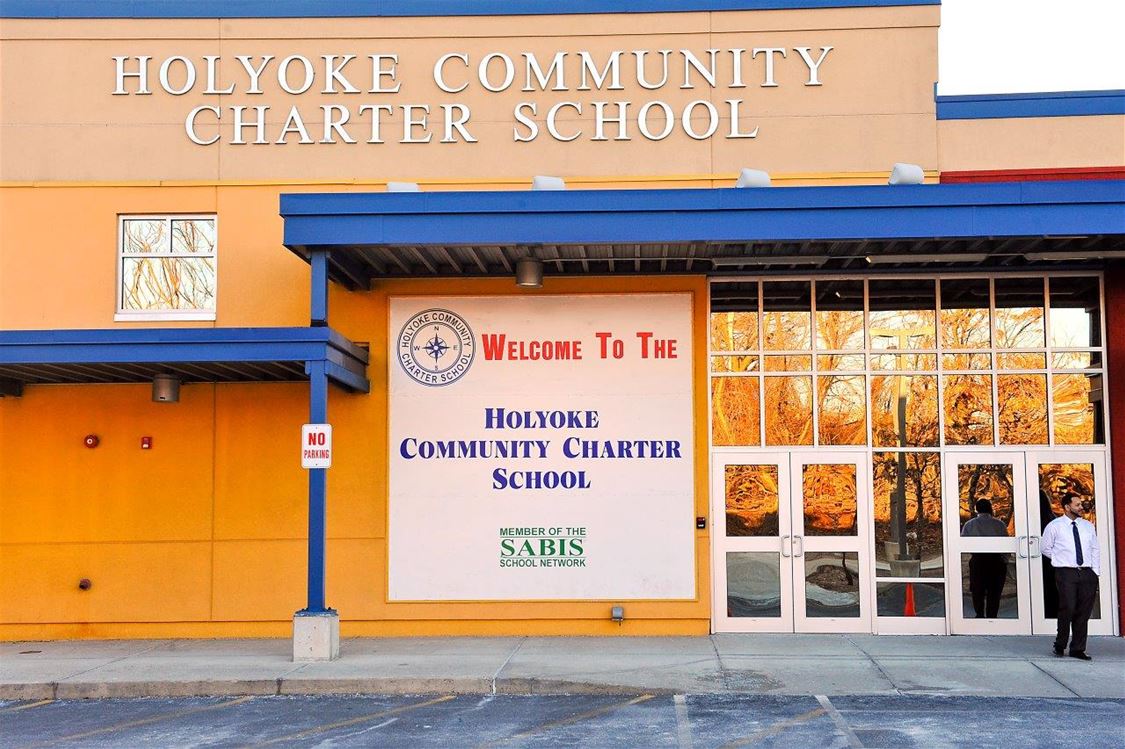 Holyoke Community Charter School (HCCS), a member of the global SABIS® Network, is a tuition-free, public charter school located in Holyoke, Massachusetts. HCCS is one of 12 SABIS® public charter schools that currently educate over 8,000 students in six states across the U.S. The K-8 school opened its doors on September 12, 2005, and has been enrolled to capacity (702 students) ever since.
Closing the Achievement Gap for HCCS Minority Students?
In the U.S., closing the achievement gap between Caucasian and minority students in education is frequently referred to as the civil rights issue of the time. Performance gaps between students of different races and ethnicities have not changed much in reading or math since 2009, according to the National Assessment of Education Progress (NAEP). Added to that, the achievement gap between high and low-income students has widened by 40 percent over the past three decades.
With a diverse student population (89% Hispanic, 7% Caucasian, 2% African-American, 2% multi-racial), and 83% of its students eligible for free or reduced-price lunch, an indication of socioeconomic status, it would seem that the odds are stacked high against HCCS. However, HCCS, is one of the schools that is making progress at closing the achievement gap. Based on the results of the 2014 Massachusetts Comprehensive Assessment System (MCAS) in English Language Arts (ELA) and mathematics, HCCS placed first in comparison to its host school district, the state of Massachusetts, and wealth surrounding suburban school districts. HCCS has successfully proven its ability to close the achievement gap and deliver a top-quality education.
SABIS Student Life Organization®
In addition to providing a solid academic foundation, HCCS also offers students the opportunity to get involved in life at school. Through the SABIS Student Life Organization® (SLO®), HCCS students have countless opportunities to explore their talents, organize and participate in events, and contribute to making the school a warm and welcoming environment. Through the engagement of so many students, SLO® is the heart and soul of the school.
Through SLO®, HCCS students can participate in a whole range of activities outside the classroom. Academic activities include peer tutoring, spelling bees, math contests, and learning vocabulary through "Scrabble." Students can also participate in music, arts and crafts, cooking, and fashion design clubs in addition to a wide range of sports for boys and girls including basketball, soccer, cheerleading, and scouts.
SLO® at HCCS also encourages students to become active members of their communities and learn the importance of giving back. In the 2015-16 school year, HCCS organized a book drive with Sparkling Crowns, a community-based organization, to benefit children at Shriners Hospital, a medical facility that treats children with orthopedic conditions, burns, and spinal cord injuries.
Achievements
Over its 10-year history, HCCS has celebrated many achievements. In 2015, 65 students took the National Spanish Examination. Twenty-six (26) HCCS students received honorable mention, 5 received gold medals, 6 received silver medals, and 15 received bronze medals. "Attaining a medal or honorable mention for any student on the National Spanish Examination is very prestigious," said Kevin Cessna-Buscemi, National Director of the Exams, "because the exams are the largest of their kind in the United States with over 154,000 students participating in 2015."
80% of HCCS students earned recognition on the National Spanish Exam in 2015. #SABIS
HCCS is also very proud of its achievement in preparing students for acceptance into the country's leading, college-preparatory high schools once they have completed Grade 8. Most recently, two HCCS students were accepted to the prestigious Northfield Mount Hermon independent high school located in New England.
Further indications of the school's success are visible in the Holyoke community and state. Putting their life skills to work, HCCS students have become role models in Holyoke through several community service initiatives. They have also proven to be leaders of change and earned recognition from former Massachusetts Governor Deval Patrick for an anti-bullying campaign that was implemented at the school.
Advocating for Charter Schools
As a public charter school in the state of Massachusetts, HCCS is among 81 charter schools serving over 33,000 students in the state, numbers that are capped by current legislation. The state cap is hindering HCCS's request to expand its offering through Grade 12 in spite of the school's excellent reputation and remarkable achievements.
Seeking to support the school's expansion application as well as raise the cap throughout the state, HCCS parents and students have been particularly active charter school advocates since 2014. In 2014, the school played host to Massachusetts State Senator Don Humason, who listened as the school's 8th graders expressed love of the school and shared their preference to remain there through graduation. HCCS Director Dr. Sonia Correa Pope is also actively involved in representing the school in the state legislature as part of a coalition of advocates. "We want children to graduate from our school, and from there we want to track students at a college level and make sure they're graduating from college," she was quoted as saying in a recent newspaper article.
With the support of the local community, parents, and students, HCCS will continue to do all it can to help others see the value of charter schools. Until then, HCCS is committed to providing a top-quality education for students in Kindergarten to Grade 8 and providing them with a solid foundation that prepares them for the challenges that lie ahead.
For information about HCCS, visit hccs-sabis.net.