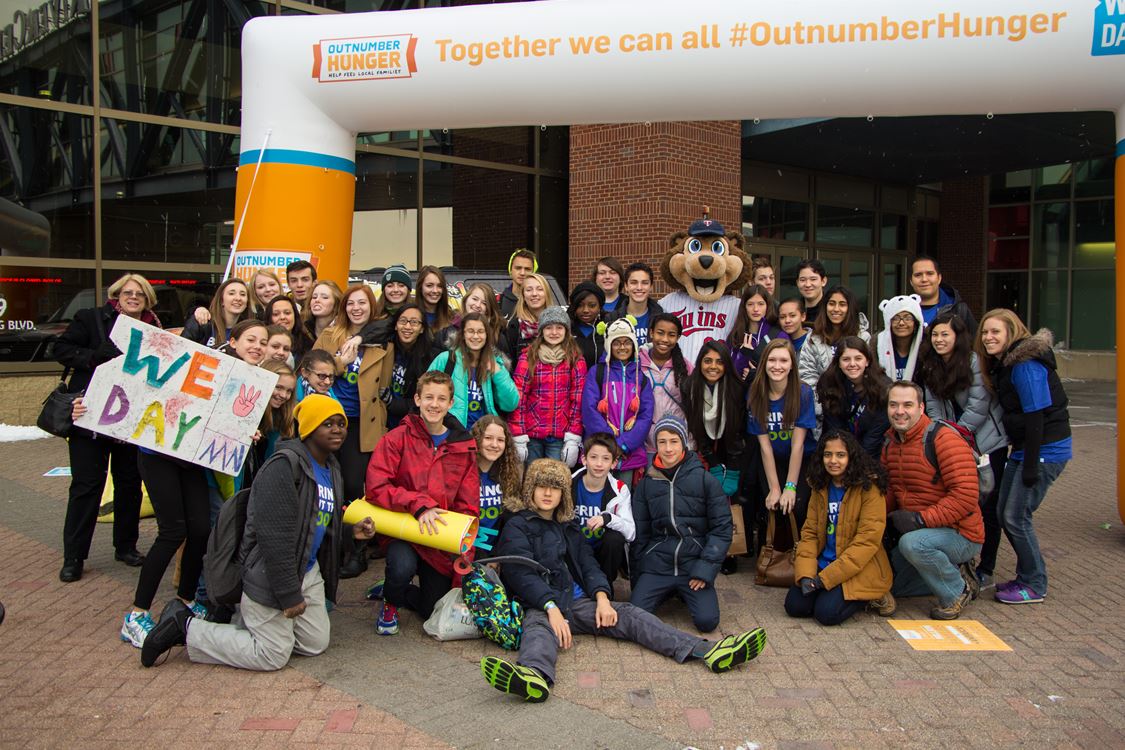 In addition to providing an outstanding education, SABIS® Network schools around the world focus on educating students who are committed to making a difference in their communities and helping those who are less fortunate than themselves. By developing a sense of empathy for others, students in SABIS® Network schools grow into young adults who are socially aware and ready to actively contribute to their communities.
Having been in operation for over 30 years, The International School of Minnesota (ISM) in Eden Prairie, Minnesota, has a particularly impressive track record of social responsibility that the school builds upon each year. With the SLO® Social Responsibility Department at ISM taking the lead, the entire school is involved in several meaningful projects.
Helping to spark ideas for meaningful ways to make a difference, ISM partners with Free the Children, an international charity and educational partner that educates and empowers young people to take the lead in social service through its WE Schools program. The WE Schools program provides educators and students with educational resources and a full calendar of campaign ideas. Using the skills developed through SLO®, ISM students plan, organize, and carry out various fundraisers. Mr. Stéphan Michaud, ISM Student Life Coordinator said, "Our focus is not only on getting students to organize fundraising events, but also to encourage them to volunteer in local organizations, making a difference by being directly involved and becoming caring citizens."
Through numerous fundraisers over the past two years, ISM has donated an impressive $39,000 to support the remote village of Mondaña in Ecuador. ISM has helped the residents of Mondaña by building a kitchen for their school and working to install a water distribution system for the village. Teams of ISM students, staff, and parents have traveled to Mondaña to help dig trenches and install water conduit from a water source located about 1 KM from the village. "I feel so lucky to have had the opportunity to be able to help and raise awareness about the important issues that involve the environment and our local and global community," said Emily Heegaard, Grade 11, Deputy Head of Social Responsibility.
Equally impressive is how ISM has been able to contribute to the fight against hunger by participating in the We Scare Hunger initiative. Over the last two years, ISM students have collected over 6,100 pounds of non-perishable food items to support two local food shelves. They have also packed over 101,000 meals for children in Africa. This amount of pre-packaged meals will feed 273 children in Africa for an entire year!
In addition to We Scare Hunger, other SLO® Social Responsibility Department projects have included: We are Silent, where 140 ISM upper school students took a 24-hour vow of silence against bullying and wore t-shirts they had purchased in an effort to raise awareness; Me to We, a mini-store in the school from which all profits from items sold as well as proceeds from the school vending machines are compiled for donations; and We Race for Change, a two-week fundraising competition among homerooms in the school which in itself raised $16,000 and is a reflection of the entire community's commitment to impact the world around them.
The impact of ISM students' commitment is also felt locally. The school helps create a happier holiday season each year through its Adopt-A-Family campaign. Each ISM homeroom adopts a local family in need and provides them with gifts and essential items for the holiday season. The school's efforts in December 2015 raised over 400 items for 18 families. "I am very proud of what we have accomplished and the fact that more and more students are getting involved in the community," said Lauren Casson, Grade 12, SLO® Head Prefect.
In recognition of the extent of ISM's investment in social responsibility, the school has been invited for the past three years to attend WE Day, an exclusive, invitation-only event that celebrates youth who make a difference. WE Day 2015 was another star-studded event that featured performers and speakers including Grammy® Award winning singer Ciara, Academy® Award winning actress Marlee Matlin, actor Henry Winkler, and Chelsea Clinton, Vice Chair of the Clinton Foundation. Seated to reflect the level of each school's community engagement, ISM was in the front row and received special recognition at the event as well as the honor of hosting the Kenyan Boys Choir, a traditional African male choir which sang at the 2009 inauguration of President Obama.
ISM students are committed to making a difference in the world and take social responsibility very seriously. "Being a part of SLO® Social Responsibility Department has connected me to other students excited about service and has inspired me to become involved in my community outside of school," said Rachel Buckland, Grade 12, Deputy Head Prefect of Social Responsibility 2014-15. "I know this experience has made me a better citizen, and as I go into college, I will be more prepared to make a positive impact on the world."
For more information about The International School of Minnesota, visit ism-sabis.net.