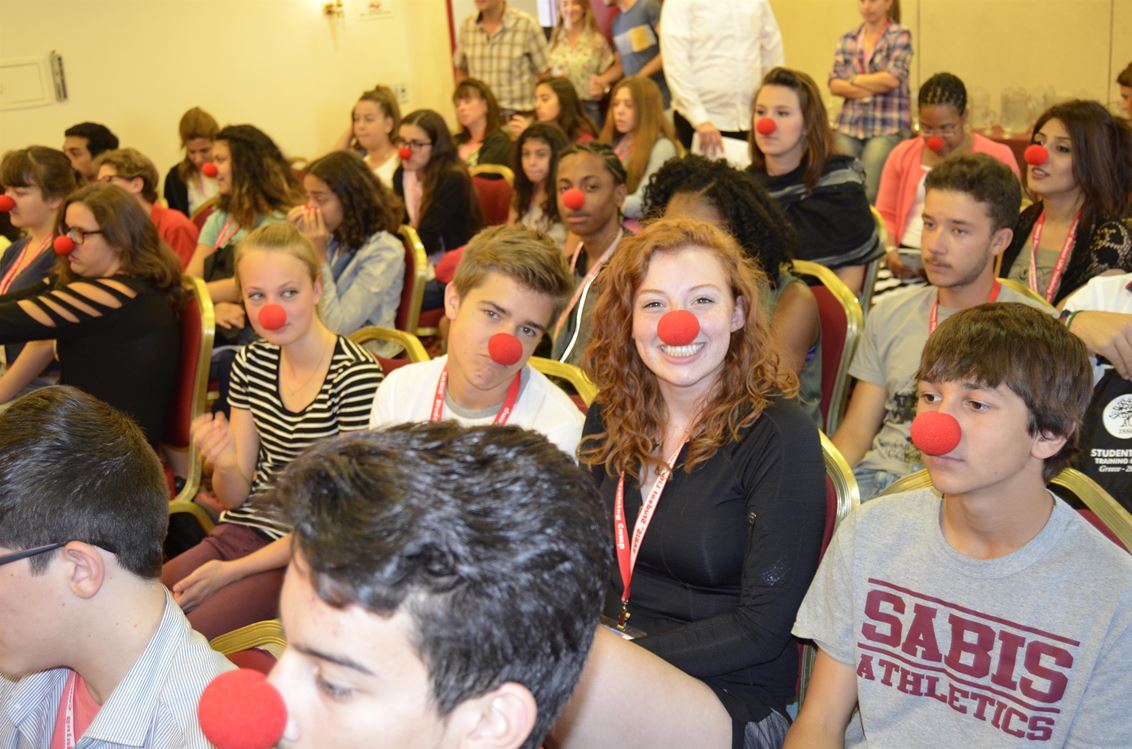 Every year, the SABIS® Student Life Organization® (SLO®) holds a training camp that brings together selected SLO® prefects from SABIS® Network schools around the world. As part of the camp, which is held in a different location each year, students have the chance to develop skills they can use to impact others and learn new skills that will help them take their SLO® and school environment to the next level.
From July 21 to 30, 2015, 93 students and 27 Student Life Coordinators from 34 SABIS® Network schools in 16 countries gathered in Athens, Greece, for the 2015 Student Life Training Camp (SLTC). Throughout the nine days, camp participants attended interactive lectures that taught them new life skills – such as the power of positive thinking and emotional intelligence – and management skills such as leadership and the "7 Habits of Highly Effective Teens." Camp participants also engaged in numerous activities and brainstorming sessions aimed at inspiring students to come up with new ideas to improve SLO® in their schools.
"The primary objective [of the camp] is to encourage participants to go back to their schools and teach their fellow students what they learned during the camp. The momentum they gain during the camp creates a snowball of goodwill as students return to their schools, ready to make a difference in their respective communities," explained Mr. Soweid, SABIS® Corporate Director – Student Life and Student Management.
In addition to participating in activities and brainstorming sessions, the SLTC participants had ample time to enjoy the sights and sounds of Greece. They went on cultural heritage trips that included the National Gardens, the Acropolis, and cruises to Greek islands.
Perhaps the most popular activity during the 2015 SLTC was the community service component that was incorporated into the agenda. "Greece is currently in the midst of an economic crisis, with many people in need of clothing, shelter, and care," explained Mr. Roger Soweid. "In the spirit of ensuring that our students really learn about social responsibility, we decided to involve them in an activity that would teach them not only how to give back to their schools and communities back home, but also how to make a difference in the world around them."
For the community service activity, the 93 participating students were divided into five groups, each group tasked with a different community service project. Together, the five groups worked with a number of local and international non-profit organizations to touch the lives of those in need. From The Smile of a Child, an organization which protects underprivileged children, to CoCoMat, an organization that grows healthy, organic food for the homeless, and Caritas, an international NGO that works to serve the world's poor, vulnerable, dispossessed, and marginalized, there were numerous opportunities to build relationships and make a difference.
In addition to the Student Life Training Camp in Greece, a tailor-made camp for K-8 SABIS® Network schools in the U.S. was offered. From July 13 to 15, 2015, 17 selected middle school students along with their schools' Student Life Coordinators traveled to Michigan for the 3-day camp. Sessions held at the International Academy of Flint and the International Preparatory Academy, two of the SABIS® Network schools in the state, taught participants valuable lessons on communication, motivation, and leading by example, among other things. Camp participants also got the chance to explore Michigan, visiting the Sea Life Aquarium and going by ferry to Mackinac Island.
Whether in Athens, Greece, or Michigan, U.S., the ultimate objective of the SLO® camps is the same: Students who attend the camps take the lessons they have learned back to their schools, share them with others, and create an active student life and a positive school culture.
For more information about the SLTC in Greece, visit sltc.sabis.net. For details about the SLO®, click here. To review a press release on one of the community service projects in Greece, click here.