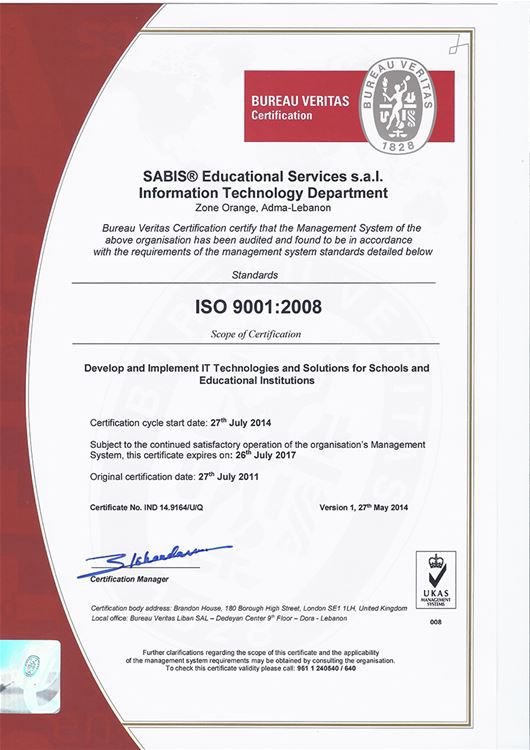 The SABIS® IT Department recently earned its five-year recertification from the International Standard Organization (ISO). The renewal follows the department's initial ISO certification, which was obtained in 2010.
ISO is an independent, non-governmental membership organization that gives world-class specifications for products, services, and systems, to ensure quality, safety, and efficiency. ISO international standards are strategic tools that allow systems to be cost effective and achieve increased levels of performance. Quality procedures and processes ensured by the ISO international standard result in top-quality, dependable, up-to-date products.
The SABIS® IT Department develops software and services for all SABIS® Network schools. By following ISO guidelines and quality standards, the department ensures that the process of developing IT tools for SABIS® Network schools around the world is smooth and efficient, ultimately creating products that contribute to enhancing the learning environment for the benefit of students.
Software systems created by the SES IT Department include the SABIS® School Management System (SABIS® SMS), the SABIS® Exam Management System (SABIS® EMS), and SABIS® WebSchool. These systems allow the school to monitor students' progress, manage school operations, and facilitate communication between the school and home.
"The SABIS® IT Department is committed to being leaders in their field and to supply the SABIS® Network with top-quality software, services, and products," said Ms. Rosy Zeidan, Quality Assurance Specialist at SES. This commitment ensures that the organization achieves its objectives of using technology to optimize learning, improve academic results, enhance teacher efficiency, and reinforce communication between the home and the school.
For more information about SABIS®, visit sabis.net.