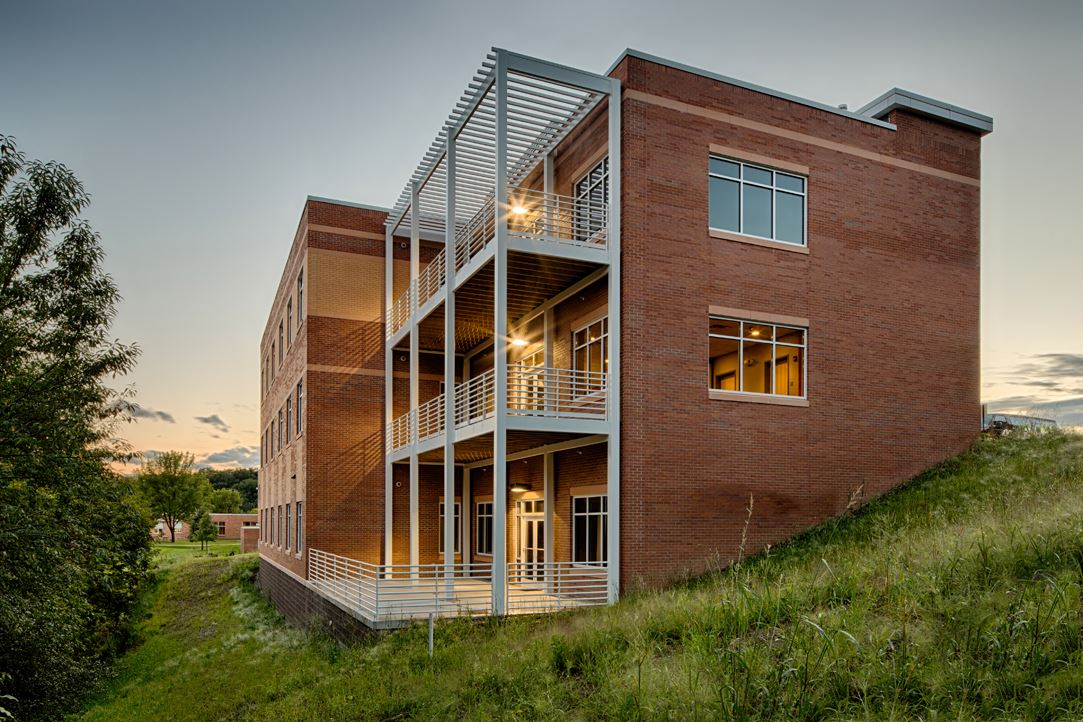 Nestled in a beautiful, wooded area in Eden Prairie, Minnesota, The International School of Minnesota (ISM) is a private, independent, non-sectarian day and boarding school. A member of the global SABIS® Network, ISM first opened its doors in September of 1986 and currently caters to approximately 400 students in Pre-school through Grade 12. The school, which has always had a multi-cultural student body, recently expanded to include a new, purpose-built residential hall that gives more students from around the world the chance to avail themselves of ISM's high-quality, college-preparatory education.
Consistently ranked among the "Most Challenging Schools in America" and currently ranked 1st in Minnesota among all schools by The Washington Post, ISM attracts a diverse, international student body. Although in the past some families arranged for their children to live with host families so that they could attend ISM as day students, the school decided it was time to add a residential facility and offer students the option to study and live on campus. ISM School Director, Ms. Christi Seiple-Cole, explains: "Interest from a number of international students, domestic students from other parts of the country, and even students from other SABIS® Network schools were among the reasons we decided to build a new residential facility on campus." The residential facility opened its doors at the onset of the 2014-15 academic year and can accommodate up to 32 boarding students. There are currently 20 students who call ISM their home during the school year.
The ISM residential facility is located on the north-east side of a 55-acre campus that provides an ideal backdrop for a unique educational experience. The campus, which includes protected wetlands and a lake, is also home to wild turkeys, whitetail deer, and other wildlife indigenous to Minnesota. As the leaves turn red and purple in fall, students enjoy the brisk weather playing sports outside. Winter is a magical time in Minnesota and students enjoy ice skating on the frozen lake and building snowmen. In spring, students enjoy hiking, picnicking, and swimming in the many lakes in the state. "We took off our shoes and walked barefoot in the sand. We then had lunch and ice-cream before heading back. You can't ask for much better than that," said one ISM student in residence. In addition to the great outdoors, Minnesota also offers many other attractions and popular activities include excursions to Mall of America, the largest indoor mall in the U.S. complete with four floors of shopping, an amusement park, and aquarium.
Throughout the year, ISM organizes a number of events to ensure that residential students are well-integrated into the ISM community and feel a sense of belonging. As it can be a student's first experience living away from home, ISM does everything it can to ensure that the experience is a happy one. At the start of the academic year, the ISM SLO® team organized a Homecoming Dance at the residential hall, where all ISM students, day and boarding, socialized and danced to the tunes of a local, popular DJ. When Halloween came around, the residence hall was filled with decorations and students screamed and squealed during their favorite scary movies. Thanksgiving was yet another fun evening with ISM School Director, Ms. Seiple-Cole, bringing in a very special Thanksgiving meal she shared with the students before they all started decorating for the holidays.
Residence hall supervisors, who live on site with the boarding students, also create a welcoming, safe, and supportive community. "Our residential students rely on us to be their support system in a way that most of our day students probably couldn't imagine," said one of the two residence hall supervisors at ISM. "At ISM, there is a real sense of community; we are teachers, students, and administrators who know each other well, and we are all looking out for each other's best interests. It is so rewarding when I hear students say that they've made a home here at ISM," said Peter Welle, Academic Quality Controller at ISM.
As the ISM residential facility comes to the end of its first year in operation, there is no doubt that it has been a truly rewarding, enriching, and life-changing experience for all those who called ISM their home this year. Here are some of the things students in residence had to say:
"Living on campus is very different from living at home. I have become very close to my friends because we live and go to school together."
-- Nick Lan, ISM Junior from China
"Since living on campus, I have noticed a big improvement in my organizational skills plus a huge amount of improvement in my reaction to real life problems by myself."
-- Juan Andreu, ISM Sophomore from Spain
"I love the fact that I no longer have to wake up super early to commute to school. Our residence hall supervisors are awesome. They are caring and teach us valuable life skills. I have even learned how to vacuum and do laundry!"
-- Simon Luo, ISM Junior from China
"The best part of living on campus is that I have made lifelong friends."
-- Bola Koleosho, ISM Senior, Nigerian-American
The ISM residential facility has much to offer students - a world-class SABIS® education, idyllic setting, supportive and caring community, lifelong friendships, and an opportunity to explore and enjoy living and studying in North America. If you would like to learn more about the school, visit ism.sabis.net. If you would like to receive information about enrollment as a day or boarding student in the 2015-16 academic year, call +1 952 918 1800 or send an E-mail to admissions@ism-sabis.net.