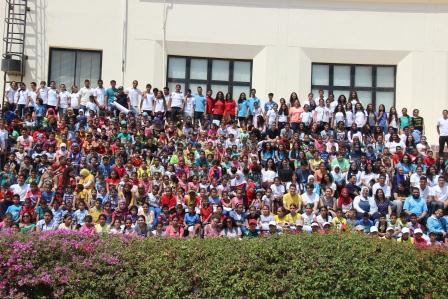 One million and seven hundred thousand. That is the official number of orphans, or "children without parental care," living in Egypt according to a census conducted in 2009 by UNICEF. Shunned by society, the future for the majority of orphans in Egypt is bleak. In an attempt to raise awareness about the plight of orphans across Egypt and the importance of integrating them into society, Egyptian National Orphan Day was created in 2004 by Al-Orman Orphanage under the sponsorship of the Egyptian Government. On the first Friday of April each year, orphanages nationwide plan festivities for both the children and their communities. Since the day was inaugurated 11 years ago, Egyptian National Orphan Day has become a major event in the Egyptian calendar.
Inspired by the festivities that were held this year on National Orphan Day, SABIS® Network schools in Egypt — ISC-Cairo and ISC-City of 6 October — decided they also wanted to do their part to help orphans in the country. And so the "500 Smiles" project was born. On Friday, May 15, 2015, prefects from the SLO® Social Responsibility departments in both ISC-Cairo and ISC-City of 6 October organized an event aimed to bring smiles to the faces of 500 orphans.
At 9:00 a.m. school buses from both schools set out to pick up children, aged 4 to 12, from 16 orphanages across Cairo. The excited children were brought to the ISC-Cairo campus, where they were met by over 80 SLO® Social Responsibility Department prefects for a day packed with fun activities including face painting, arts and crafts, games, music, food, and much more.
Students from both SABIS® Network schools felt that the "500 Smiles" project was a wonderful opportunity that allowed them to make a difference in the lives of those who are less fortunate than themselves. "Adding a smile on the faces of the kids meant the world to me, especially when one of the children asked for my number and called me a few days later. I felt we had really made a difference," a Grade 10 prefect from ISC-Cairo proudly said.
The "500 Smiles" project is one of many outreach activities organized by SABIS® Network schools in Egypt. Over the years, ISC-Cairo and ISC-City of 6 October have built a strong reputation for giving back. Their combined community service efforts have caught the attention of the Minister of Education in Egypt, who has praised their commitment to helping others. In 2013 ISC-Cairo and ISC-City of 6 October organized a 24-hour marathon that raised enough money for two life-saving cardiac surgery operations with the Dr. Magdy Yacoub Heart Foundation.
Through numerous projects students develop a sense of empathy for others, realize that the welfare of their community is a shared responsibility, and learn that it really is possible to make a difference.
For more information about ISC-Cairo, visit isccairo.sabis.net. To learn more about ISC-City of 6 October, visit isc6october.sabis.net.