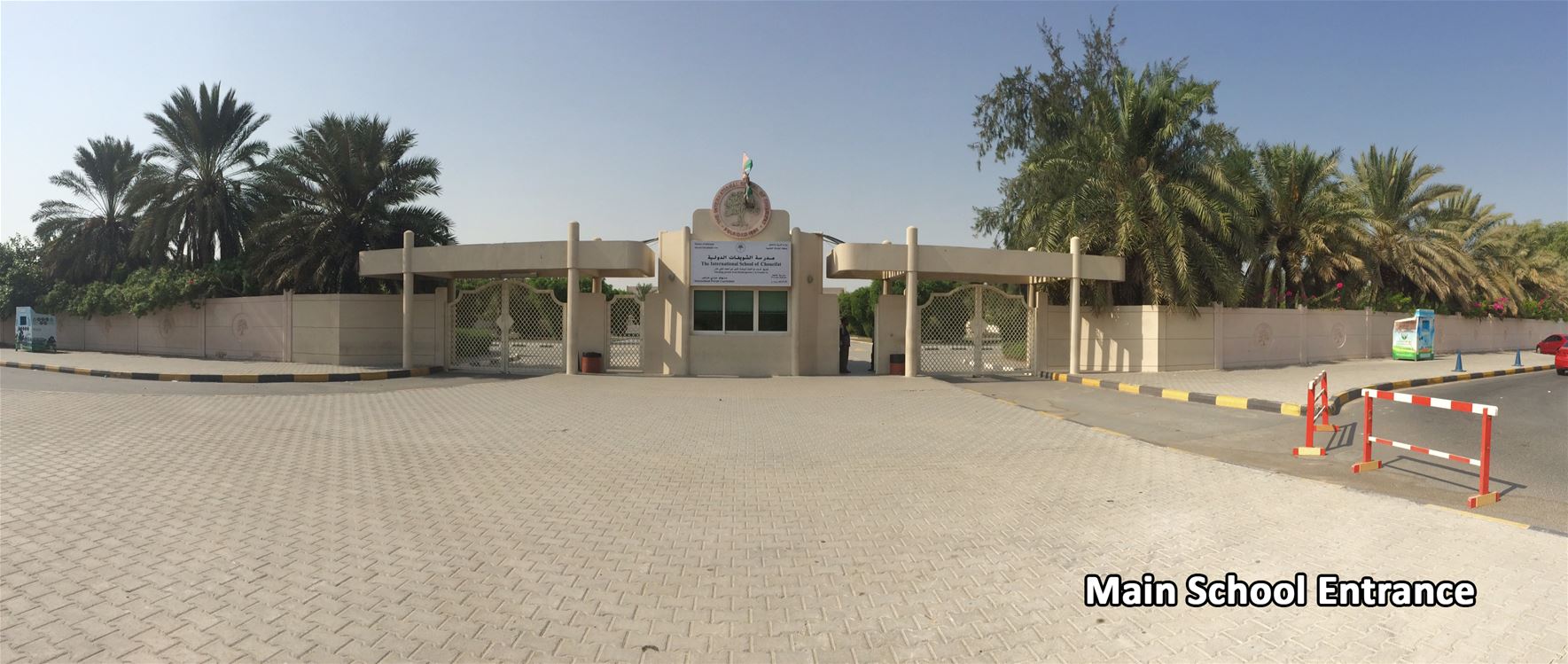 The International School of Choueifat – Sharjah (ISC-Sharjah) in the U.A.E. opened its doors in January 1976 as the first SABIS® Network school to operate outside of Lebanon. With an initial enrollment of just 141 students in its first year of operation, ISC-Sharjah has grown over the past four decades to become one of the largest schools in the global SABIS® Network. The school currently educates close to 4,200 students in Kindergarten through Grade 12. As it fast approaches its 40th anniversary, ISC-Sharjah is extremely proud of its legacy of excellence.
History
In 1975, through a networking connection that came from a graduate of the International School of Choueifat (ISC-Choueifat) in Lebanon, SABIS® had the opportunity to open its first school outside the country. If the project went smoothly, a new branch of the International School of Choueifat would be established in Sharjah, a small and relatively unknown emirate back in the early 70s, and would be located initially on an old air force base. Challenges were coming though, among them getting supplies – textbooks, copybooks, pens, pencils, etc. – from Lebanon to the U.A.E. through a supply chain that was frequently interrupted by a civil war.
Despite the challenges, ISC-Sharjah opened its doors in January 1976 with 25 teachers and a mere 17 students. By February, the student body had grown to 37, and by the summer of 1976, ISC-Sharjah finished the academic year with 141 students, remarkable growth for its first year in operation. As enrollment grew in the coming years, the school moved to its purpose-built campus, where thousands of students have acquired an outstanding education and essential life skills.
Academics
On an academic level, ISC-Sharjah implements the SABIS® Educational System, a comprehensive and challenging academic program that uses cutting-edge software and a distinct approach to teaching and learning. Like all SABIS® Network schools around the world, ISC-Sharjah implements the SABIS Point System® at all grade levels. Through the SABIS Point System®, students learn through a systematic learning process that engages them in both individual and group work.
In addition to a systematic approach to learning, ISC-Sharjah also teaches students to take an active role in their education and the education of others. This is particularly apparent in SLO® Peer Tutoring and Shadow Teaching® programs. Students who master particular subjects regularly volunteer as peer tutors or Shadow Teachers®, which allow them the opportunity to teach their fellow classmates, either on a one-to-one basis, as in the case of peer tutoring, or by teaching an entire class as a Shadow Teacher®.
Students are reaping the benefits of peer tutoring and Shadow Teaching®. "Volunteering as an English and math peer tutor has made me consider a career in teaching," said Lynn-Rose Salim, a Grade 10 student. "Being a Shadow Teacher® made me work extra hard to ensure that I knew the material before going into the classroom; it also helped me to gain confidence in public speaking and presentation skills," said Alya Berciu, a Shadow Teacher® currently in Grade 12.
Cultural Diversity
ISC-Sharjah enjoys a culturally diverse student body. There are currently 76 nationalities among the student body at the school. This diversity provides a rich environment in which to study, discover information about different cultures, religions, and races, and learn about people's differences as well as similarities.
The school celebrates its cultural diversity in numerous ways. International Day, for example, is a bright and colorful celebration of the cultures that exist in harmony at ISC-Sharjah. The entire community – students, parents, and teachers alike – all come together to showcase dances, music, and food from the many cultures at the school. ISC-Sharjah also celebrates U.A.E. National Day in order to teach students about their local host country.
Through its highly diverse student body and special events throughout the year, ISC-Sharjah students learn tolerance and open-mindedness. They also gain an international edge that is crucial for future integration into multinational settings, whether at university, in the workplace, or socially.
Achievements
Students at ISC-Sharjah follow the international SABIS® curriculum, which integrates competitive external examination programs such as the American Advanced Placement (AP®) exams as well as the British Advanced Level (A Level) and International General Certificate of Secondary Education (IGCSE) in addition to others.
ISC-Sharjah has a long history of outstanding performance on external examinations. Year after year ISC-Sharjah students are recognized for their results. Most recently, two students were recognized for world-class performance on external exams. Anan Mahmoud, a Grade 11 student at ISC-Sharjah, was awarded the HH Sheikh Maktoum bin Mohammed bin Rashid Al Maktoum Outstanding Cambridge Learner Award for achieving the highest grade in the world on the Cambridge IGCSE First Language Arabic. Zetian Li, a Grade 12 student, attained a perfect score, a rare and impressive 2,400 points, on SAT II subject tests in chemistry, mathematics, and physics. Less than 1% of students who take the exam earn a perfect score. With these results, Zetian joins an elite group of students around the world who have achieved such a result.
SABIS Student Life Organization®
All ISC-Sharjah students are encouraged to join the SABIS Student Life Organization® (SLO®) and play an active role in their school community. From organizing campus events, sports tournaments, activities, and field trips to becoming involved in giving back to their community, there is something for everyone at ISC-Sharjah.
At ISC-Sharjah, the SLO® is extremely dedicated to raising awareness about health issues in the emirate. One of the main health issues that the U.A.E. is facing today is the rise of diabetes within the general population and especially among children. This development prompted the government to launch a nation-wide campaign to raise awareness to fight the disease. The SLO® Sports and Health Department at ISC-Sharjah has actively joined the campaign and is promoting the importance of healthy eating and living a healthy lifestyle. Through a number of initiatives that include teaching the importance of avoiding fast food and sodas, promoting the importance of sports, and showing the benefits of exercise and good nutrition, the SLO® Sports and Health Department is actively contributing to fighting this national health issue.
In addition to raising awareness about healthy living, the ISC-Sharjah SLO® organizes a cancer awareness campaign in February each year. Students participate in competitions which are both fun and educational. A fresh juice bar and a healthy food booth promote the importance of healthy eating as a means to prevent the disease. The event also includes discussions about the various forms of cancer that are on the rise and the decisions students can make on a daily basis that help prevent the spread of cancer.
The result of the awareness campaign has prompted positive action within the student body. One Grade 11 student has set up a successful blog that promotes the importance of a healthy lifestyle. SLO® prefects actively administer the blog and research and write articles to be posted on the site.
The SLO® at ISC-Sharjah also offers many extra-curricular activities for students to develop a number of interests. Clubs include chess, drama, violin, piano, guitar, oil painting, jewelry making, art, and photography. Sports activities include football, basketball, swimming, Taekwondo, and tennis.
Alumni Around the World
Over the past 40 years, ISC-Sharjah has graduated 2,409 students who have received acceptances to many prestigious universities around the world and gone on to study in the U.A.E., U.S., Canada, U.K., Australia, Ireland, and Lebanon to name a few. The latest graduating cohort, the Class of 2014, gained acceptances to top universities including Carnegie Mellon University and Georgia Institute of Technology in the U.S., McGill University in Canada, The Royal College of Surgeons in Ireland, and The University of Edinburgh in the U.K. as well as the American University of Beirut in Lebanon.
ISC-Sharjah alumni around the world are successful individuals who hold prominent positions in both the private and public sectors. Many alumni, after settling down and starting their own families, return to enroll their children in their alma mater. One such parent/alumnus is Anwar Selo. "Thirty years later, as I drop my kids off in the morning, they are amazed when I stop to greet a teacher or supervisor. My children are in ISC-Sharjah simply because there is no other school I would entrust with their education. In a sense, I still go to ISC-Sharjah," said Anwar. This sense of pride in their school is a sentiment that is carried through several generations.
Close-Knit Community
Among the school's many achievements is the strong sense of community it has built. The Emirate of Sharjah has a reputation for being one of the most family-friendly and residentially stable of the seven emirates that make up the U.A.E. Families choose to settle in Sharjah and often commute to other emirates for work. The stability of the emirate coupled with ISC-Sharjah's reputation for excellence draws many families to settle long term in the area. Over 30% of the Class of 2015 have attended ISC-Sharjah since Kindergarten. This is a remarkable achievement given the transient nature of the population in the U.A.E. "At ISC-Sharjah we all feel like we are part of one big family," said one Grade 10 student.
With the stellar academic performance of its students, outstanding achievements, successful alumni around the world, and a stable, close-knit community, ISC-Sharjah has a lot to celebrate on its 40th anniversary, which will be marked with a big celebration in the next academic year.
"We have already started planning the 40-year anniversary celebration that will take place in the next academic year," said Mr. John Kassis, ISC-Sharjah School Director. "We want to make sure that ISC-Sharjah's 40th birthday will be a day to remember!"
For more information about the International School of Choueifat-Sharjah, visit iscsharjah.sabis.net. If you would like to read about ISC-Sharjah's 40th anniversary celebration, watch for future press releases posted on sabis.net.