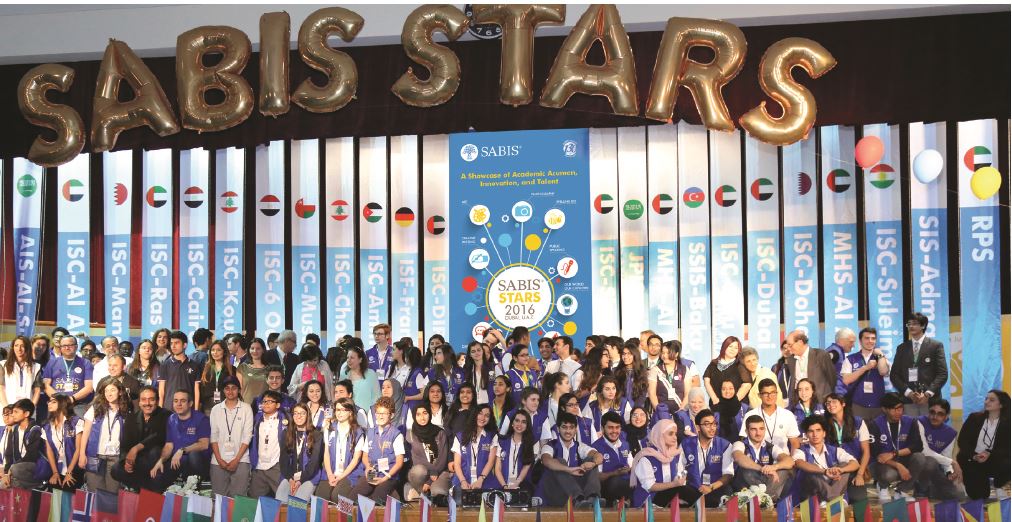 On April 22 and 23, 2016, 600 students from the SABIS® Network participated in the SABIS® STARS (SLO® Talent & Academic RegionalS) educational contest at the International School of Choueifat – Dubai in the U.A.E. The biennial event brought together students from 28 SABIS® Network schools from 12 countries to meet and compete in events that are designed to challenge them in academics and beyond.
The event was a wonderful opportunity to celebrate and showcase the many ways students in SABIS® Network schools are encouraged to explore and develop their talents, interests, and creativity. Active participation categories of competition included advertising, Arabic poetry – reciting, debate, science fair, public speaking, spelling bee, painting (senior students), and "Our World – Our Concern," an event in which schools prepared awareness campaigns to be carried out within their community to address a problem they have identified. The competition also included "passive" categories for which students did not to travel to the official event. Passive categories included painting (junior students), creative writing, and photography.
All participating SABIS® Network schools had their share of victory. ISC-Sharjah took home first place trophies in three categories including junior painting, senior science fair, and "Our World – Our Concern." ISC-Choueifat and ISC-Lahore went home with two first place trophies each in photography and junior science fair and public speaking and advertising, respectively. Abdulaziz International School Al-Sulaimaniah, ISC-Cairo, ISC-6 October, the SIS-Adma, and ISC-Dubai Investments Park took first place, respectively, in the remaining competitions including Arabic poetry, spelling bee, senior painting, debate, and creative writing.
The event was a huge success, with students from SABIS® Network schools treating the audience to an outstanding showcase of skill, talent, creativity, and wit. Competition was fierce and the judges, who included selected parents and professionals from the community, were impressed by the participants' work, camaraderie, and sportsmanship.
"SABIS® STARS provides opportunities for students to explore ideas, develop confidence, and articulate opinions. It allows them to showcase their knowledge, talent, and creativity; develop networking skills; improve teamwork abilities; and widen their cultural enrichment," said Mr. Victor Saad, SABIS® Vice President, during the closing ceremony. "From public speaking to Arabic poetry recital, photography, live painting, debate, and the science fair, the skills that were displayed here in the last two days were nothing short of spectacular!"
SABIS® STARS is one of a number of international events that are held in order to bring together students from SABIS® Network schools around the world to compete in a positive, healthy, and inspiring environment. This year, thanks to the hard work and dedication of participating students, schools, parents, and the community, the event was an all-round success.
For more information about SABIS® STARS 2016, visit the official Facebook page at facebook.com/SABISSTARS.