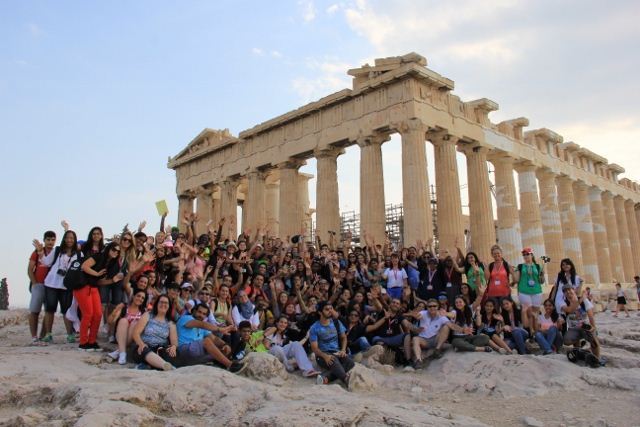 From July 15-24, 2014, 100 individuals from SABIS® member schools in North America, Europe, North Africa, Asia, and the Middle East participated in the annual SABIS® Worldwide Student Life Training Camp (SLTC). Held in Athens, Greece, the camp included student representatives from SABIS® member schools and Student Life Coordinators (SLCs), all of whom came together for 10 days of training, cultural exploration, and fun.
Camp participants took part in training sessions every day. The sessions were presented by a combination of individuals including Mr. Roger Soweid, SABIS® Corporate Director – Student Life and Student Management, and Student Life Coordinators (SLCs) and were designed to help focus attention on elements needed to achieve success in the coming academic year.
"The main purpose of the SABIS® Worldwide Student Life Training Camp is to ensure that selected prefects and Student Life Coordinators are equipped with the relevant tools to infuse their schools with the right spirit and in the process take their SLO®s to a different height through training in life skills such as communication, team-building, and positive thinking," explained Mr. Soweid.
In addition to the numerous and varied workshops, the participants also enjoyed the exploration of cultural and historic sites of Greece including The Acropolis, Plaka Market, Cape Sunio, and Greek Islands of Aegina, Poros, and Hydra.
Student feedback from the 2014 SLTC was overwhelmingly positive.
"I'm taking all the positive thoughts and ideas and will try to apply all the lessons that I've learned to my school and to my life."
-- Margarita Kuzina, ISC-Al Ain, U.A.E.
"The Student Life Training Camp is a life changing experience; it is such a blessing to have the opportunity to interact with schools all over the world and grow as a leader."
-- Jillian Allen, International Academy of Flint, U.S.A.
"This is the best experience in my life as it taught me a lot of things that will help me not only to improve my school but also to improve myself and my life. And I will do my best and try to apply all of the amazing ideas that I have gained in the camp to improve my school and make a change. I will also try to tell the students more about what I have learned from the presentations."
-- Lamis Sallam, ISC-City of 6 October, Egypt
"The camp was an experience like no other. It has inspired me with new ideas that I would like to implement in my school."
-- Hrithik Reddy, ISF, Germany
"I'm taking back with me everything I learned from the training sessions and I'm going to use that knowledge to work on myself as a person and try to spread as much knowledge and positivity as I possibly can to the people around me. Moreover, with the skills I acquired at this camp, I am more than sure I can help make a positive change at my school and this is truly my most important goal."
-- Amir El Asmar, ISC-Choueifat, Lebanon
"The camp was great. I wish I could stay here longer. But I realize it is time to go back to school and change the world."
-- Nathan Johnson, SABIS® International Charter School in Springfield, Massachusetts, U.S.A.
Students were not the only ones to leave the camp motivated and enthusiastic about the year ahead. Student Life Coordinators were equally enthusiastic:
"I am walking away with a deeper understanding of how we can inspire and motivate others to be a part of an organization whose aim is to make school a positive experience for all and to help students achieve success by being positive, spreading goodness, choosing our attitude, and recognizing that the power resides within each of us."
--Gina Martin-Ryan, SLC at SABIS® International Charter School in Springfield, Massachusetts, U.S.A.
"Meeting other SLCs and discussing our experiences gave us a multitude of new ideas that we can implement in our respective schools to enrich SLO®. The SABIS® Worldwide Student Life Training Camp is a reservoir of power that constantly feeds us."
--Tony Tannous, SLC at ISC-Al Ain, U.A.E.
Motivated, excited, and full of new ideas, the participants returned from the camp committed to making a difference and improving SLO® in their respective schools. A number of SABIS® member schools will be holding mini camps allowing the participants to share their experiences and what they have learned with their peers.
For more information about the SABIS® Worldwide Student Life Training Camp, including a photo gallery documenting the daily activities and events that took place throughout the camp, visit sltc.sabis.net.