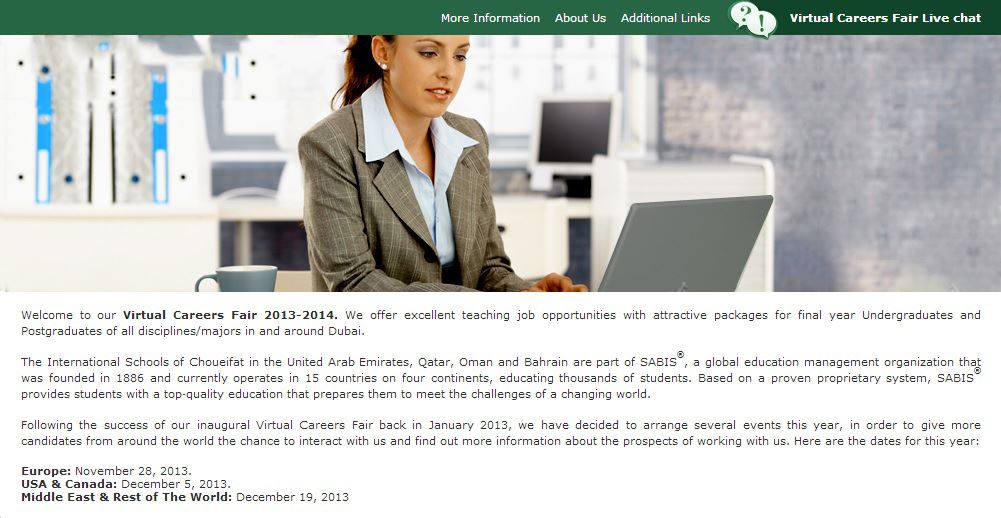 The global SABIS® School Network is currently comprised of schools located in 15 countries on four continents and educates over 63,000 students. More than 3,200 teachers employed in SABIS® member schools are responsible for implementing the proven SABIS® Educational System and helping their students achieve their full potential.
As an expanding organization, SABIS® actively recruits quality teachers for its member schools on a year-round basis and uses a wide variety of the latest recruitment methods including virtual career fairs. Also known as an online job fair, a virtual career fair is an online event during which employers and job seekers meet in a virtual environment. In the current global and competitive job market, the main benefit of holding a virtual career fair is that it allows employers to interview job seekers via the Internet. Online job fairs save both employers and job seekers a great deal of time and financial resources that would otherwise be spent travelling from one location to another to conduct or attend interviews.
Following its successful foray into virtual career fairs in 2012, recruiters for SABIS® member schools held a series of virtual fairs in late 2013. These fairs covered North America and Canada, Europe and North Africa, and the rest of the world. The first fair, which focused on member schools in the U.A.E., Oman, Qatar, and Bahrain, was held on November 28, 2013. Subsequent fairs for North America and Canada and the rest of the world were held on December 5 and 12, 2013, respectively.
"This is the second year in which we have used this platform as a means to meet and talk with potential candidates interested in working at the International Schools of Choueifat in the region," explained Mr. Seán Cooney, SABIS® Recruitment Director, U.A.E. and Gulf. "Candidates can talk to SABIS® HR officers using the online chat portal offered on our web platform. Once we identify suitable candidates for the vacancies we have available, the next step is to proceed to our structured recruitment process, which involves Skype and face-to-face interviews, before reaching a final decision."
"Through a well thought out and well executed virtual career fair, we are able to reach a greater number of people from a greater geographical area. It is a win-win situation for all and it is the way of the future," said Mr. Cooney.
Results from the virtual career fairs have been positive and support future recruitment efforts using this method. For the virtual fair targeting North America and Canada, there were over 400 potential candidates registered and to date 33 individuals have been hired.
For more information about employment opportunities at SABIS® or any of its member schools, visit www.sabiscareers.com.