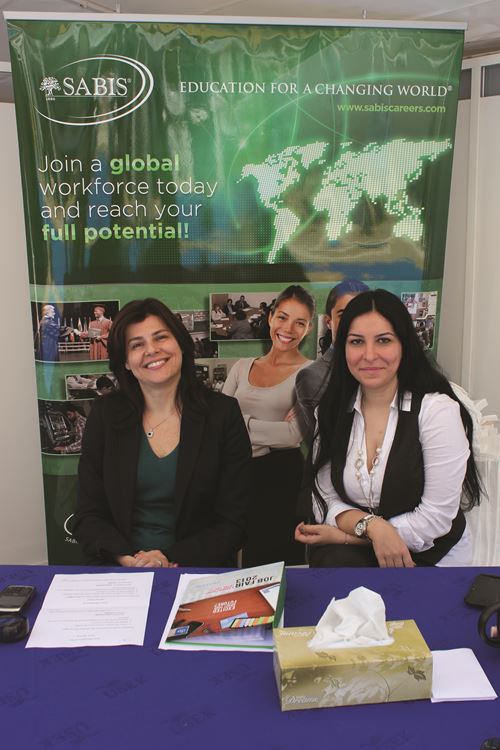 Throughout the year, SABIS® recruiters allocate a large portion of their time to finding the best applicants available for vacant positions within the SABIS® School Network. One of the strategies that recruiters rely on in Lebanon is to participate actively in job fairs organized on university campuses across the country. This year, SABIS® recruiters participated in nine university job fairs in order to select applicants best-suited for full-time vacancies as well as candidates for the summer SABIS® Internship Program. Over a marathon three-week period, the SABIS® HR recruitment team set up shop at top universities in the country and met with over 500 eager students from the American University of Beirut (AUB), the Lebanese American University (LAU), Balamand University, L'Université Saint-Esprit de Kaslik (USEK), and the Lebanese University.
"The various job fairs that are organized by universities are a great opportunity for us to market SABIS® and reach a large number of talented students and graduates," explained Senior Recruitment Officer at SABIS® Educational Services, Ms. Fadia Issa. "We are also able to talk to potential candidates and answer their questions, which is a great opportunity to fill vacant positions in our internship program as well as permanent full-time vacancies. We often flag good applicants that we want to proceed with on the spot," she added.
This year, SABIS® recruiters are also looking to select six suitable candidates for the newly launched SABIS® Training Program in the IT Software Development Department, an intense four-week program in which participants will be given the opportunity to experience authentic working conditions, participate in hands-on workshops, and complete on-the-job assignments. "We are very enthusiastic about our new training program and we are looking forward to welcoming the new interns," said Mr. Serge Bakhos, SABIS® Group Vice President – Information Technology, Book Publishing and Creative Design. "Unlike our regular internship program, this tailor-made training program is designed for fresh graduates who have completed their university studies and would like the opportunity of transitioning from the training program into a full-time position in our department."
With over 5,500 individuals employed in SABIS® member schools in 15 countries on four continents, there are regular vacancies within the network. To find out more about the latest vacancies in SABIS®, visit www.sabiscareers.com.