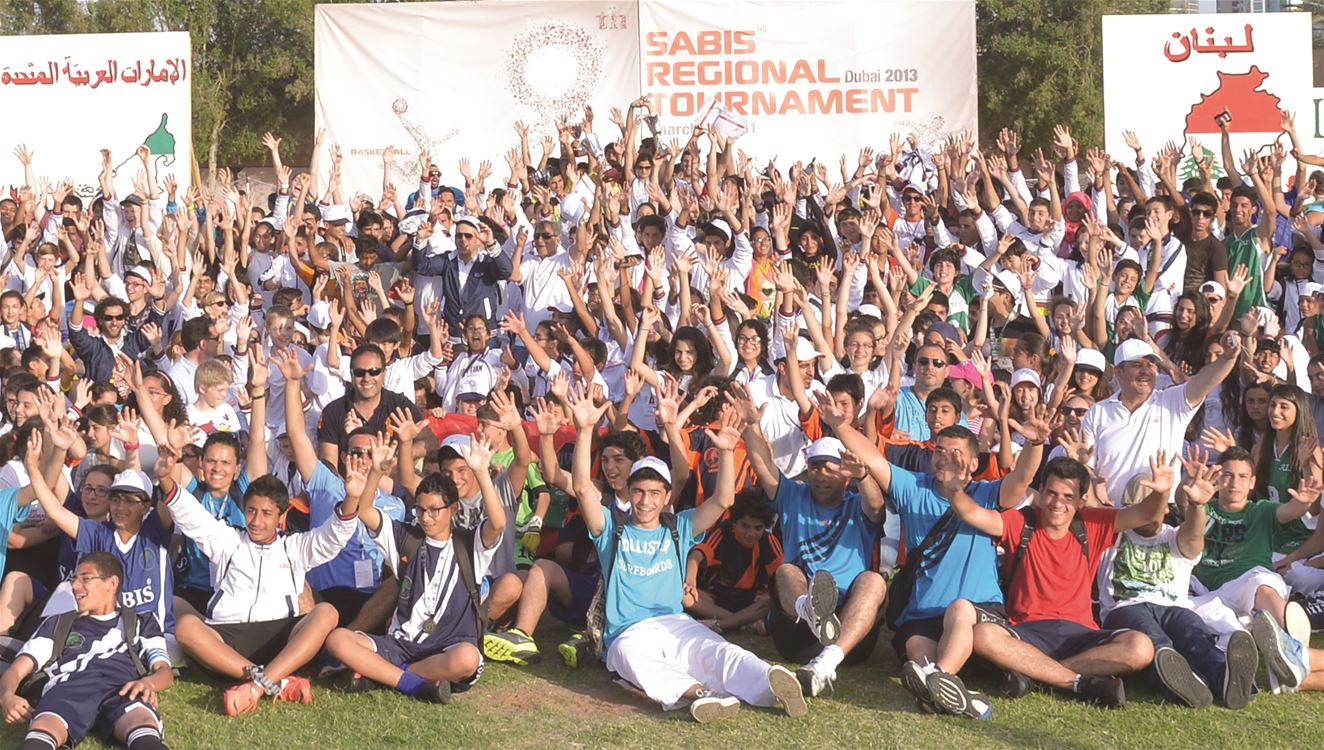 Over 1,000 participants from 23 SABIS® member schools in 12 countries participated in the 9th SABIS® Regional Tournament on March 30-31, 2013. Held every other year and highly anticipated throughout the SABIS® School Network, the tournament was hosted by ISC-Dubai and ISC-Sharjah in the U.A.E. and brought together young athletes from SABIS® member schools in Bahrain, Egypt, Germany, Kurdistan-Iraq, Jordan, Lebanon, Oman, Pakistan, Qatar, Romania, and Saudi Arabia.
The tournament kicked off with a lavish ceremony which was attended by a number of officials and dignitaries including His Highness Sheik Mansoor bin Mohammed bin Rashid Al Maktoum, representing the Dubai Sport Council. To mark the beginning of the games, over 800 student athletes marched onto the field to the music of the U.A.E. Armed Forces Military Platoon.
During the opening ceremony, SABIS® Vice President, Mr. Victor Saad, addressed the students reminding them that through their participation, they would build confidence, resilience, teamwork, and many other skills that will enable them to thrive in life. Mr. Saad added, "Good sportsmanship means winning without gloating, losing without complaining, and, most importantly, learning to respect our team mates as well as our opponents."
Throughout the two-day sporting event, SABIS® student athletes enthusiastically competed in a wide range of sports including swimming, basketball, soccer, sprint, relay, and long jump, and exhibited an overwhelming spirit of friendship and true sportsmanship. On the last day, medals and trophies were awarded to the winning teams amid much cheering and clapping from a large crowd of spectators. All SABIS® schools took something home with them as a token of their participation in the games. ISC-Cairo took home a total of 17 medals; ISC-Amman and ISF-Germany a total of 12 medals each; ISC-Choueifat won a total of 6 medals; and ISC-Al Ain and ISC-Doha won a total of 5 medals each. Twenty-seven (27) more medals were shared among the remaining schools.
Students returned home with many great memories and are already anticipating the 10th SABIS® Regional Tournament, which is set to take place in Lebanon in 2015.