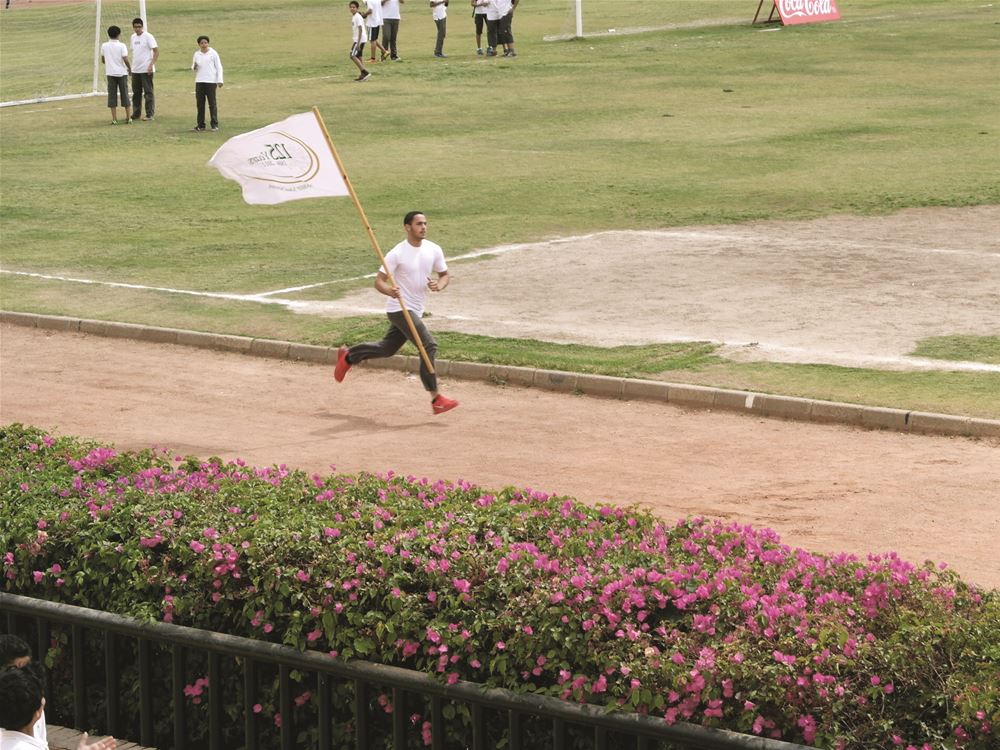 SABIS® believes that education has the power to change the world. Involvement in the SABIS Student Life Organization® (SLO®) is one of the ways students in SABIS® member schools learn about their roles and responsibilities in bringing about change. Through involvement in SLO®, students can get involved in a multitude of community service activities that teach the value of becoming active, responsible global citizens.
One SABIS® member school that consistently makes a difference in its community is the International School of Choueifat-Cairo (ISC-Cairo) in Egypt. Most recently, the ISC-Cairo Student Life Organization® organized a 24-hour fundraising marathon to raise money for the Dr. Magdy Yacoub Heart Foundation, a non-profit, non-governmental organization that provides free, world-class cardiovascular medical services to the less privileged in Egypt and throughout the region.
Starting on Thursday, April 18, 2013, and for the next 24 hours, over 1,000 ISC-Cairo students participated in athletic contests (running races, basketball, dodge ball, football, and trampoline) to raise money. By 1 p.m. on Friday, April 19, the students had raised enough money from donations and sponsorships to cover the expenses of two life-saving cardiac surgery procedures.
"The aim of the marathon had been to raise enough money to fund a heart operation for one person. To do this, we needed to raise 60,000 Egyptian Pounds [just over 8,400 U.S. Dollars]," stated Nada Al Hady, Head of the SLO® Activities Department at ISC-Cairo. "We ended up surpassing our initial target and were able to raise enough money to fund operations for two people!" she added.
The students' efforts did not go unnoticed; ISC-Cairo parents were deeply impressed. "This event is very humbling and is a wonderful opportunity to serve the community. Our children and the school have set an example for us all and we are very happy to have had the opportunity to be part of this amazing feat," said one parent.
The marathon was officially kicked off by Dr. Aneesa Hassouna, Executive Director of the Dr. Magdy Yacoub Heart Foundation, who said a few words of welcome and appreciation. The welcome was followed by an appearance of the SABIS® Regional Tournament record-breaking ISC-Cairo relay team, who ran onto the football pitch proudly bearing the SABIS® flag. Shortly thereafter, the track was filled with marathon participants. Throughout the night, there were 90 SLO® prefects running on track on a rotation basis. By 6 a.m. the next morning, students were already enjoying a morning bonanza with bouncy castles, an Easter egg hunt, and a performance by the ISC-Cairo Gymnastic Club. The day was wrapped up with great performance by the ISC-Cairo Glee Club and finally, a word from the School Director, Dr. Michael Giddings, who thanked the community for their generosity and support.
Through ISC-Cairo's outreach efforts, students develop a sense of empathy for others, realize that the welfare of their community is a shared responsibility, and learn that it really is possible to make a difference.
For more information about the Dr. Magdy Yacoub Heart Foundation or for information on how to donate to the foundation, visit http://myf-egypt.org/index.php.