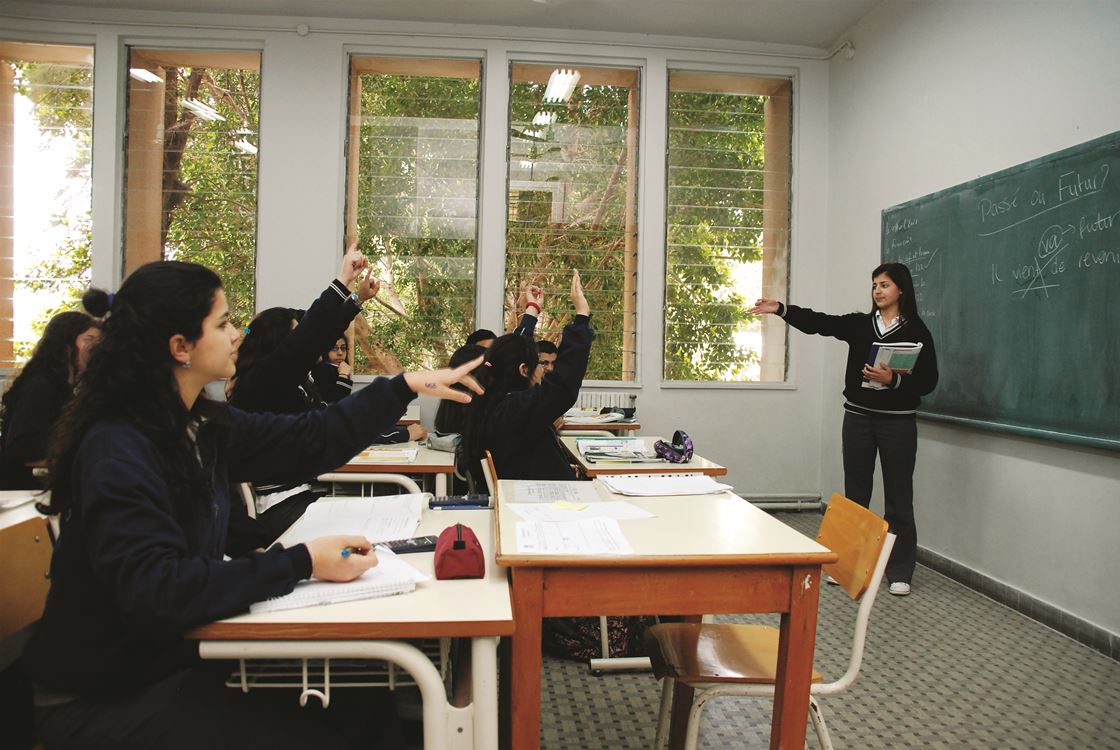 Contributing as individuals to raising academic standards is an integral component of the learning process in the SABIS® Educational System. In all SABIS® member schools, students are encouraged to take an active role in their education and in helping their peers. Involvement as Shadow Teachers® is one of the ways many students raise overall standards. "Shadow Teaching in SABIS® schools falls under the umbrella of the Student Life Organization® - Academic Department," explained Mr. Roger Soweid, SABIS® Corporate Director – Student Life and Student Management. "SLO® trains prefects to become effective teachers so that they can assist their teachers whenever the need arises."
In SABIS® classrooms around the globe, Shadow Teachers® are called upon in a number of circumstances. They may be called upon to assist a substitute teacher due to the absence of the regular teacher. By aiding the substitute teacher, the Shadow Teacher® steps in to make sure that new concepts are covered in the teacher's absence, thus minimizing the academic disruption. Shadow Teachers® are also called upon by teachers regularly to assist them in the classroom by taking the lead in teaching the material.
"Across the network, SABIS® member schools are reaping the benefits of Shadow Teaching," explained Mr. Soweid. "The main purpose of this program is to benefit the students. By ensuring continuous and seamless learning, the academic performance of the students does not suffer [in a teacher's absence]."
Students in SABIS® member schools agree with Mr. Soweid.
"I have been a Shadow Teacher® for a long time and it has made me committed to the subject I am teaching. Shadow Teaching® is a good opportunity for me to practice talking to an audience and it also strengthens the bond between the teacher and student. I love being a Shadow Teacher®. It is always nice to see that sudden spark of understanding after you have finished explaining a subject."
-- Shadow Teacher® at ISC-Doha, Qatar.
"Being a Shadow Teacher® is one of my best memories from this year. It strengthened my English, tested my understanding of problems, and gave me experience in teaching. It is not as simple as solutions to problems. Identifying the giving points students are likely to mix up and explaining in a clearer way can be challenging. This gives me a better understanding of the subject, what being a teacher is, and makes me want to be a professor in the future."
-- Shadow Teacher® at The International School of Minnesota, U.S.
"Being a Shadow Teacher® impacted me very positively. I learned what it's like being the teacher and what teachers go through. It made me more of a leader and taught me responsibility. Although it was a lot of hard work, I still enjoy it and I think it is so much fun."
-- Shadow Teacher® at ISC-Koura, Lebanon.
Students interested in becoming a Shadow Teacher® should contact their school's Student Life Coordinator for more information.