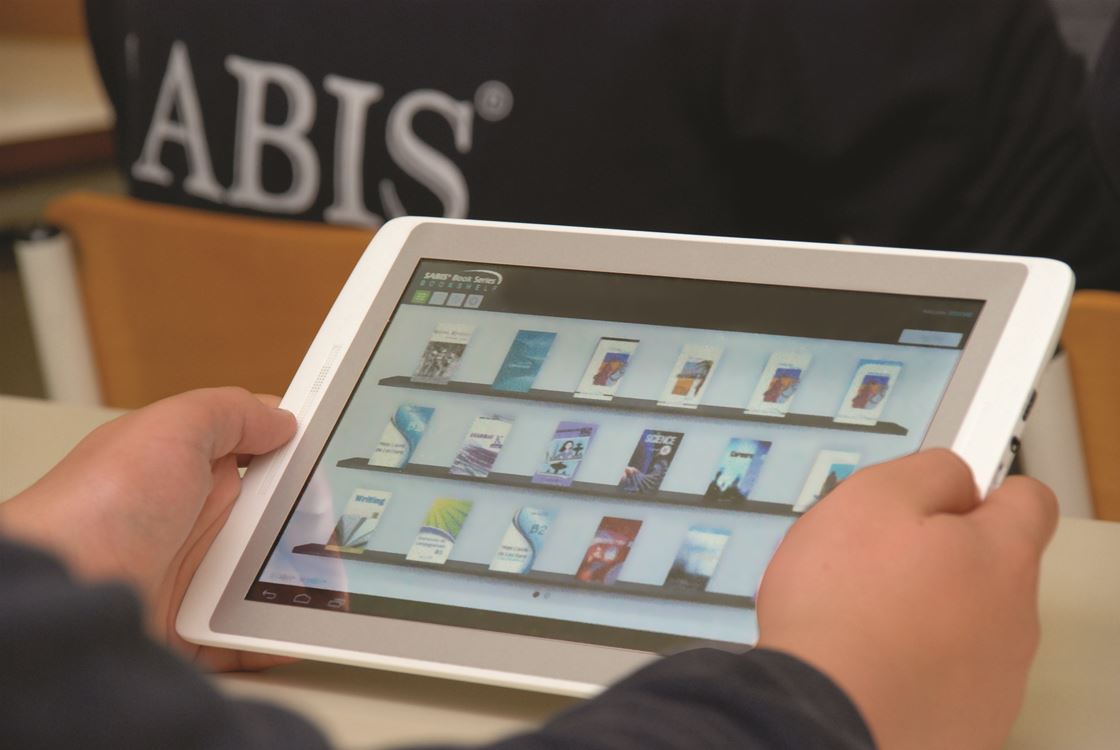 SABIS® is committed to investing in new technologies that bring added value to the SABIS® classroom by enhancing teacher efficiency and improving academic outcomes. Nowhere is this commitment more evident than in the SABIS® E-book Project, which is currently underway in the SABIS® Academic Development and IT departments.
The SABIS® E-book Project is not simply about digitizing SABIS® textbooks. It is a far more comprehensive project that involves the development of a myriad of features including interactive activities, simulations and animations that accompany each lesson, videos, interlinks to prerequisite material, and links to external resources that all work together to make SABIS® E-books an engaging educational experience.
The complex SABIS® E-book Project has been divided into three phases. The first phase, which is currently nearing completion, consisted of converting the physical books to digital books for Android, deciding on various audio and video clips, adding animations and interactions, introducing new types of interactive questions, and generating E-exercise books to enhance the student learning experience. The second phase involves the integration of E-books with the SABIS® software systems such as the ITL®, ILT™, and PrepList. The final phase will consist of finalizing security and management of the devices so that they are ready to be placed in the hands of students.
"An experienced team of conversion specialists was fully dedicated to providing the digital E-book services that would allow us to launch a pilot project in select schools," explained Ms. Brigitte Matar, Manager of Books and Publishing Department at SABIS® Educational Services (SES) in Lebanon. Less than one year after its official launch, the SABIS® E-book Project entered a pilot phase at the SABIS® International School-Adma, where over 60 students in Grade 8 and 11 teachers were given ARCHOS tablets to access E-books covering all subjects in that grade.
"The E-book pilot kicked-off as expected," said Mr. Elie Gemayel, Production Manager of Academic Development at SES. "The students showed great excitement about using tablets to access their electronic books. Three weeks after the pilot launch, we gathered feedback from both teachers and students. They found many of the functionalities we introduced very helpful such as adding notes, videos about scientific lab activities, and other videos and animations that were developed by SES to facilitate the understanding of some complex concepts."
There are a multitude of benefits that can be derived from switching to E-books – environmental benefits from saving paper; health benefits as a result of lighter school bags. The ultimate benefit is, however, as SABIS® sees it, the improvement the device will bring to the day-to-day educational experience. SABIS® E-books will improve academic performance by enhancing efficiency in the classroom, increasing the breadth of material that can be covered, and engaging students even more actively in the education process. By making the final product available to all SABIS® member schools in the near future, each and every child, no matter where they are in the world, will reap the full benefits of the technological investments and developments powered by SABIS®.