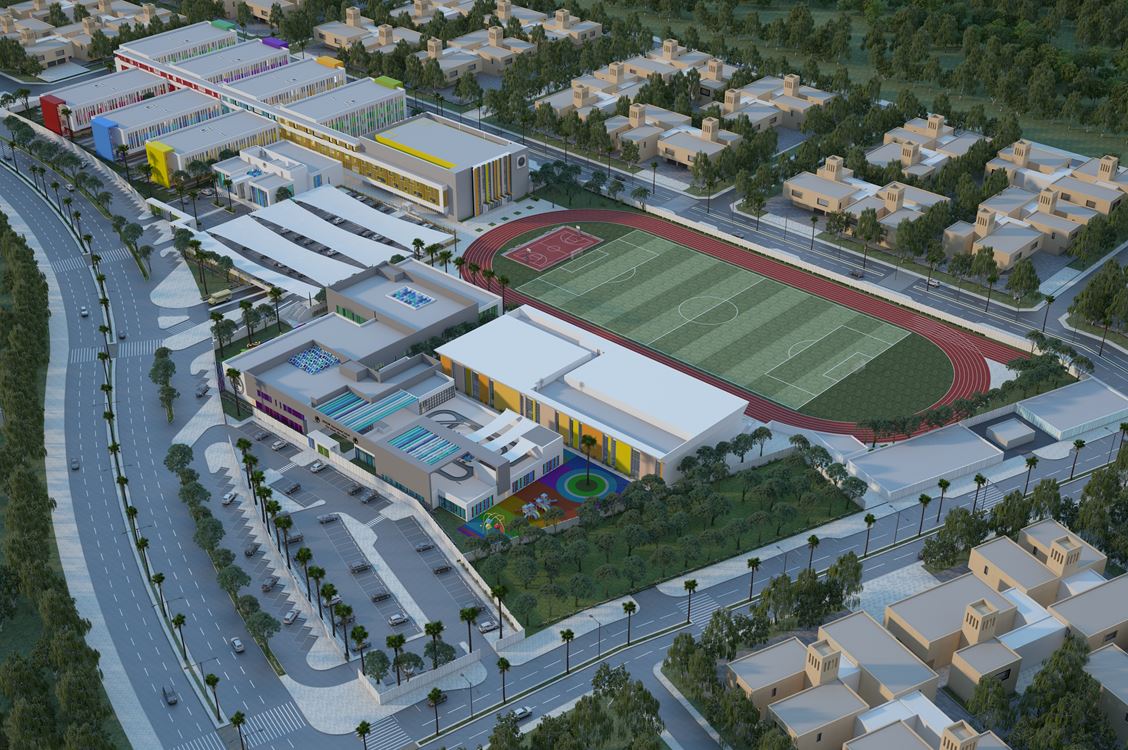 SABIS® International School - Yas Island (SIS-Yas Island), located on the man-made Yas Island in Abu Dhabi, U.A.E., opened its doors at the start of the 2015-16 academic year. SIS-Yas Island is the 14th SABIS® school in the U.A.E. and the third in the emirate of Abu Dhabi alone. The decision to open the school was made in response to growing demand from parents and a long waiting list of students eager to enroll in ISC-Abu Dhabi and ISC-Khalifa City (two SABIS® schools in Abu Dhabi that opened in 1978 and 2006, respectively).
In its first year, SIS-Yas Island welcomed 123 students in Kindergarten through Grade 5. Today, in its third year of operation, SIS-Yas Island welcomes 504 students in Kindergarten through Grade 8. The school plans to continue to expand, adding additional grades each year until it reaches a full K-12 offering.

A State-of-the-Art Campus
SIS-Yas Island is a purpose-built school situated on a 65,000 square meter campus. It offers state-of-art facilities including spacious classrooms, science and computer laboratories, and a library, as well as a theater that can accommodate over 660 guests and a cafeteria that serves hot and cold nutritious meals. The school also boasts extensive sports facilities including a semi-Olympic-sized swimming pool, an indoor basketball/tennis/multipurpose court, and an Olympic-sized soccer field surrounded by a running track.
SIS-Yas Island facilities also cater to the specific needs of its younger students. The Kindergarten Department is an independent unit with its own cafeteria, indoor swimming pool, multipurpose indoor court, indoor and outdoor play areas, and a special car track.
"As a KG teacher, it is always an extremely rewarding and satisfying experience welcoming children to school for their early years of education. I am proud to teach in a school where student learning and integrity is always the highest priority."
–— Sinead Boyle, SIS-Yas Island KG teacher
An Excellent Start
As a new school, SIS-Yas Island enjoyed an excellent start. As a member of the SABIS® Network, the school implements the SABIS® Educational System™, a comprehensive and challenging academic program. The SABIS® curriculum, coupled with SABIS® proprietary books in traditional and E-format, teacher support material, and effective school management systems, ensured that school operations ran smoothly and that students benefitted immediately from a tried and tested educational system.
"For any parent the decision of which school to put their first child in, wanting the very best for them, is a daunting decision. [...] we are very happy with our choice as we see the progress our child has made in just the short time she has been there."
–— Angela Tchilinguirian, SIS-Yas Island parent
SIS-Yas Island is one of a handful of SABIS® schools that offers a trilingual education, teaching in English, French, and Arabic. Studies have shown that learning a world language is not only beneficial for language acquisition, but that it heightens cognitive development, literacy skills, and cultural appreciation from a young age. The importance of languages has also been shown to be a key asset in the development of 21st century skills and in preparing students for success. This skill is especially valuable in more diverse parts of the world, such as the U.A.E., where families from around the world converge to live and work.
"SIS-Yas Island is a wonderful place to learn with joy and fun!"
–— Karoline and Philip Dazinger, SIS-Yas Island parents
A Culture of Achievement
When SIS-Yas Island first opened, it accepted students from non-SABIS® schools in the area as well as international students who had recently moved with their families to the U.A.E. The main challenge this posed was in integrating students with various degrees of language fluency. In fact, some students did not even recognize letters in English when they first started.
Through the SABIS® Accelerated English Program, the school was able to bring English language learners to the required academic level in less than one year. (The SABIS® Accelerated Program is an intensive program that is designed to help students who are below the academic requirements reach the same standards as their classmates and join regular classes within a short period of time). SIS-Yas Island School Director, Mr. Wissam Malaeb, recalls an especially touching moment when a young Grade 4 student came down the corridor toward him exclaiming, "Sir, I can read now!" only a few weeks after he joined the school.
The Accelerated Program is not the only way that SIS-Yas Island raises academic standards. From a very young age, the school ensures that all students take their education seriously and play an active role in helping their peers excel academically, thus creating a strong culture of achievement. Students who master particular subjects are regularly selected or volunteer as Shadow Teachers®, a role in which they assist teachers by taking the lead in presenting material in class. It is never too early for SIS-Yas Island students to become Shadow Teachers®. In fact, Kindergarten students at the school help out in math and English classes. Students who master particular subjects are also encouraged to become peer tutors and help their fellow classmates during SLO® periods, breaks, and lunchtime.
An Environmentally-Friendly Culture
In addition to creating a culture of achievement, SIS-Yas Island is also committed to creating an environmentally-friendly culture, instilling in students a love of and respect for the environment.
The school itself was recently awarded a GOLD LEED GREEN certificate issued by the U.S. Green Building Council and verified by Green Business Certification Inc. LEED (Leadership in Energy and Environmental Design) is the most widely used green building rating system in the world, providing a framework to creating healthy, highly efficient, and cost-saving green buildings. LEED certification is a globally recognized symbol of sustainability achievement. If you would like to read more about LEED, visit new.usgbc.org/leed.
On a student level, SIS-Yas Island rolled out a successful paper recycling campaign designed to teach students that every little bit counts and that it only takes small changes in daily life to make an impact on the environment. During the 2016-17 academic year, recycling boxes were placed in all classrooms, offices, and common areas. Students and staff were asked to dispose of all paper materials in the recycling boxes. At the end of every day, prefects passed by and collected the paper to be picked up by a recycling company. By the end of the year, the school had recycled three tons of paper!
"There is no task of greater importance than to give our children the very best preparation for the demands of an ominous future [...]. A SABIS® education draws out the best of qualities in young people. While this is not an instant process, the values they learn provide a lifelong platform from which to grow."
— — Manea A. Al Shamesi, SIS-Yas Island parent
An Active SABIS Student Life Organization®
All students across the global SABIS® school Network are strongly encouraged to join the SABIS Student Life Organization® (SLO®) at their school and play an active role in their school community. Despite their young age — SIS-Yas Island students currently range from 3+ to 13 years of age — they have embraced Student Life and eagerly volunteer for a wide variety of roles within SLO®.
"The idea of giving students responsibilities is outstanding. Giving them tasks to accomplish teaches them how to be independent and gives them the opportunity to acquire life skills."
–— SIS-Yas Island parent
In addition to giving students the chance to experience an active and engaging life at school through SLO®, SIS-Yas Island also offers a wide variety of extracurricular activities. Sports activities include Taekwondo, football (soccer), swimming, basketball, tennis, gymnastics, and ballet. The school also offers music (piano and choir), arts and crafts, and a number of clubs that students can join ranging from drama, to puppets, chess, mental math, and reading clubs.
Year-Round Activities and Events
Visitors to the SIS-Yas Island campus are likely to find something special going on nearly every day of the year. The school regularly organizes fun days, sports days, spelling bees, science fairs, cooking festivals, music festivals, and ballet and gymnastics shows. These events create a very special atmosphere, ensuring that students are always involved in and discovering new hobbies and talents.
The school also holds a large event for U.A.E. National Day at which students and parents can explore and celebrate the U.A.E. heritage. Cultural Day is also a much anticipated event that helps the school raise awareness about the importance of cultural diversity and living in harmony. Over 800 family members and friends participated in last year's event.
The "Let's Read" campaign, which ran from March through May 2016, was also a huge success. Staff, parents, and students were encouraged to read after school in a special reading room set up for the 2-month period. Around 850 books were ready throughout the campaign!
The state-of-the-art, environment-friendly campus, combined with high academic standards, a trilingual education system, an active student life, and year-round events make SIS-Yas Island a very special school! If you would like to find out more about SIS-Yas Island, visit sisyasisland.sabis.net or call the school (+971 2 565 0065) to book a tour.