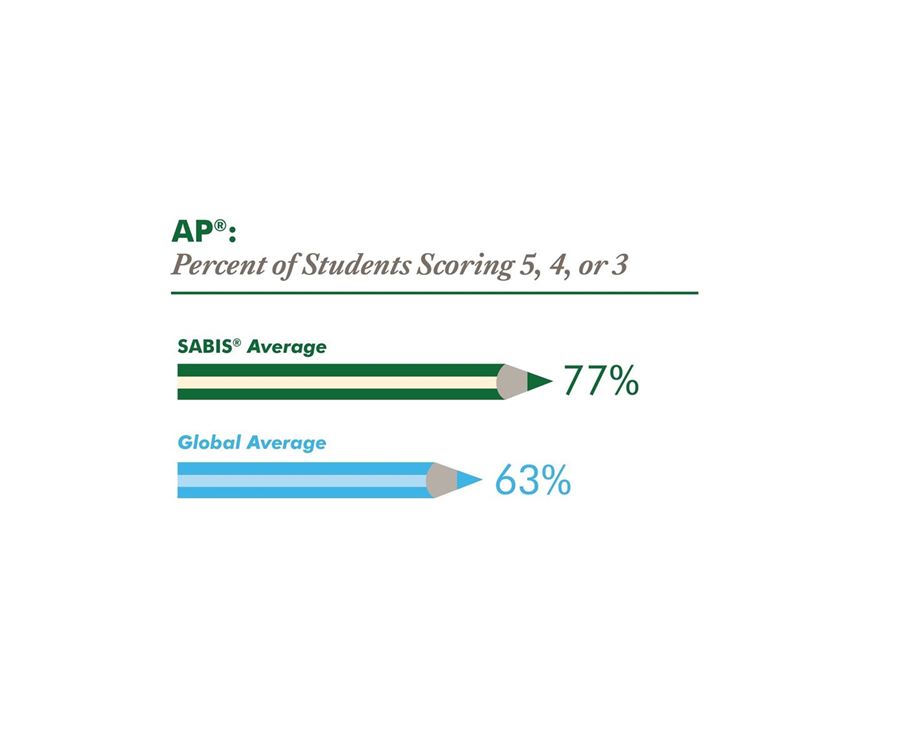 As a network that prepares close to 2,000 students for admission to the world's most competitive colleges and universities each year, SABIS® understands the importance of strong external exam scores. Although there are a number of admissions criteria that can include grades throughout high school, Scholastic Aptitude Test (SAT) results, personal essays, or recommendations, a student's performance on external exams plays a major role in the university admissions process.
Designed to help students prepare for and do well on external exams, the effectiveness of the SABIS® Educational System™ is demonstrated in the external exam results earned throughout the network annually.
In the spring of 2016, over 4,200 students in 26 SABIS® Network schools took external exams including, among others, the British International General Certificate of Secondary Education (IGCSE) and Advanced/Advanced Supplementary Level (A/AS Level) as well as Advanced Placement® (AP®) exams overseen by The College Board in the U.S. The exams, which were taken in 51 different subjects, included a number of different formats – multiple-choice, short-answer, and essay. Some subjects such as foreign languages also included an oral component to assess the scope and degree of students' fluency.
With scores tallied across the network, 2016 network-wide results revealed another year of outstanding performance.
These results are impressive in their own right; they are even more impressive when considered in the context of global average results and SABIS® Network schools' non-selective admissions policy. For example, the 89% of students in SABIS® Network schools who earned A*-C on IGCSEs compares globally with 81% worldwide. The 77% of SABIS® students who earned the highest scores of 3, 4, or 5 on AP® exams correlates to 63% who earned the same results on a global scale.
Equipped with outstanding external exam results as well as a solid academic foundation and essential life skills, 2016 graduates from SABIS® Network schools are ready to showcase their skills at top colleges and universities around the world.
For more information about the SABIS® Educational System™, visit sabis.net.