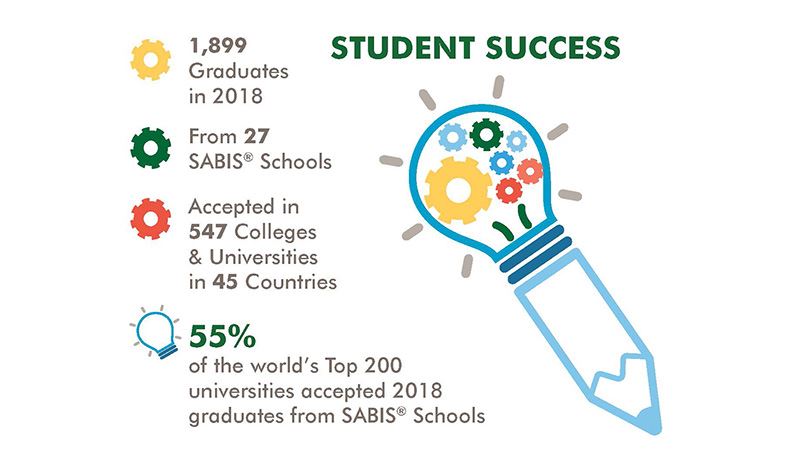 All schools in the SABIS® Network aim to prepare students for admission to the college or university of their choice. Through the implementation of the SABIS® Educational System™, students are equipped with the knowledge and skills they need to become well-rounded, community-minded individuals who are prepared for college and life. The list of colleges and universities to which 2018 graduates from the network were accepted in 2018 shows the efficacy of the system in meeting this objective.
In the summer of 2018, a total of 1,899 students graduated from SABIS® schools across the network and were accepted to 547 universities in 45 countries around the world. In fact, 55% of the world's top 200 universities as identified by the U.K. Times Educational Supplement accepted SABIS® 2018 graduates. Interestingly, many of these universities also appeared on Reuters Top 100: The World's Most Innovative Universities, which ranks educational institutions doing the most to advance science, invent new technologies, and power new markets and industries as demonstrated by the number of publications and successful World Intellectual Property Organization (WIPO) patents. SABIS® graduates were accepted to all of the top five on the Reuters list – Stanford University, MIT, Harvard University, University of Pennsylvania, and University of Washington.
"A SABIS® education gives students a solid foundation of knowledge, academic mastery, and life skills that allow them access to leading universities around the world," commented Mr. Ghassan Kansou, SABIS® VP – Academic Development. "We are pleased to see that our students are consistently accepted at the world's most innovative universities as well — a real testament to how our students are equipped with the scientific knowledge and background they need to be on the cutting-edge of technology by continually re-engineering their skills, deepening their knowledge, and ultimately reaching their full potential."
A SABIS® education prepares students for acceptance to world's most innovative universities
Year after year, students in SABIS® schools are accepted to many of the world's top colleges and universities. Once admitted, SABIS® graduates build on their foundation of academic and life skills and go on to distinguish themselves in a wide range of professions.
For more information about SABIS®, visit sabis.net. Click here to access the complete list of university acceptances for the network in 2018, and to stay up-to-date on the latest news in the network, follow us on Facebook.