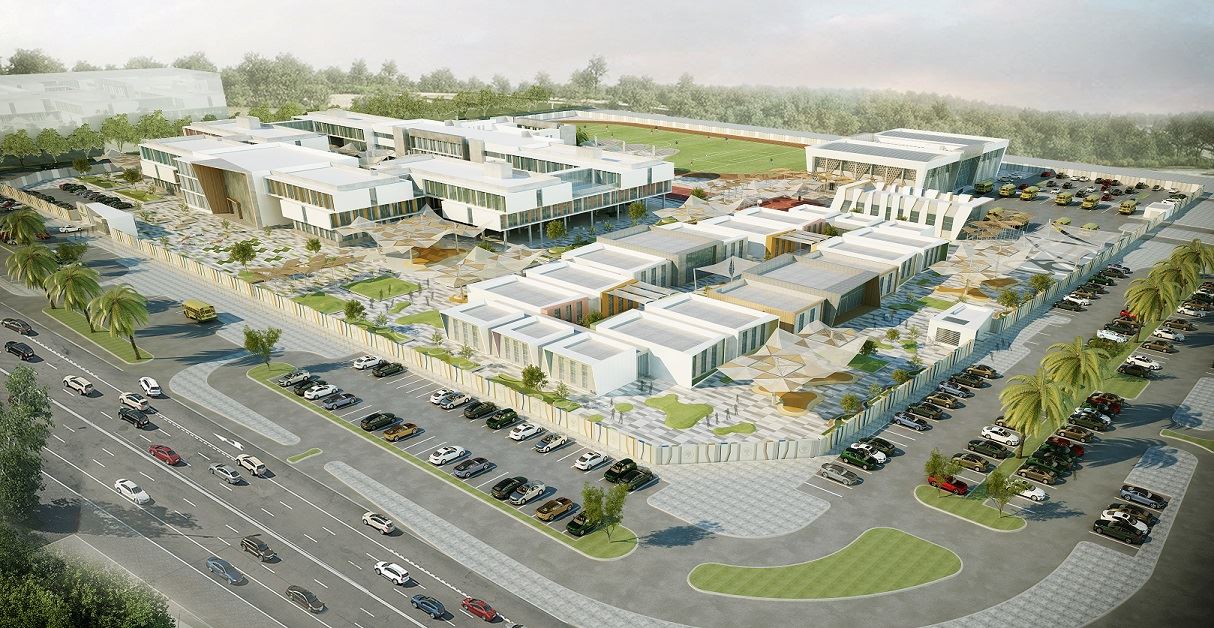 The International School of Choueifat – Umm Al Quwain (ISC-UAQ) is a SABIS® school located in Umm Al Quwain, one of seven emirates that comprise the United Arab Emirates (U.A.E). From the time it first opened in 1993 and up until the 2017-18 academic year, ISC-UAQ only catered to students in Kindergarten through Grade 6, after which students moved on to other schools in Umm Al Quwain or in the neighboring emirate of Sharjah. But as Umm Al Quwain grew and its population flourished, so did the need for a full K-12 SABIS® school in the immediate community. So, at the onset of the 2018-19 academic year, ISC-UAQ responded to this need, adding Grade 7, and it will continue to add an additional grade level each year allowing students to remain in their school until graduation day at the end of Grade 12.
"I'm so proud to be a student at International School of Choueifat – UAQ. I believe that a SABIS® education is very effective. I am really happy that I will continue in ISC-UAQ until graduation because I'll receive a firm base of education and will be well prepared to face the challenging future."
– Aisha Humeid Al-Ali, Grade 5
"I like being a student at the International School of Choueifat – UAQ, where I grow in a safe environment. I am provided with the best education ever as well as the opportunity to showcase my talents. I am eager to graduate from my school, where character is shaped properly for my future."
– Aya Khaled, Grade 7
"Studying at ISC-UAQ is great. We are well-educated and prepared to face the world in the future with strong personality. I like my school because it is amazing."
– Rashed Maktoum Al Mualla, Grade 6
New Campus
The initial decision to expand ISC-UAQ into a full K-12 school led to a new reality. The ageing campus that had served them since 1993 could no longer accommodate the school's growth plans. So, in September 2018, ISC-UAQ relocated to its new, purpose-built campus.
The new state-of-the-art facilities allow students the opportunity to discover new interests and hobbies. The new campus boasts spacious classrooms, science and computer laboratories, and a dedicated SABIS® Integrated Testing and Learning® (ITL®) Hall, where students take computerized exams and receive real-time results. It will also house a theater, cafeteria, and library, all of which are ideal spaces for learning and interacting with others. Additionally, the new campus will offer extensive sports facilities, which are currently in the final stages of construction. A semi-Olympic swimming pool, an indoor basketball/tennis court, and an Olympic-sized soccer field surrounded by a running track will soon provide students ample space to play the sports they love.
ISC-Umm Al Quwain now enrolling students at their new campus
The needs of the youngest students at ISC-UAQ have also been catered to with an independent Kindergarten section that ensures a safe and healthy environment for them to discover the world around them. Students aged 3 to 5 now enjoy their very own indoor swimming pool, multipurpose indoor court, play areas, and a special car track.
"I have two kids at ISC-UAQ. We love the new campus! It is well-designed and has generous outdoor areas. Our aim is to have our children graduate from SABIS®. That opens the door for their future based on an excellent academic background."
– Shereen Nawara, Parent
"Our kids are lucky to start their new academic year in a good environment and facilities that will help them to perform as expected from them."
– Hanadi Al-Kashef, Parent
"I am a proud mother of two students at Choueifat Umm Al Quwain. Choueifat schools provide a unique learning experience for the students by having a strong academic system that helps the students improve their critical thinking skills as well as build a solid knowledge base so that they are able to conquer the world in future!"
– Dr. Rabab Al Sayed, mother of 2 ISC-UAQ students
Student Body
At ISC-UAQ, approximately 70% the student body is of local, Emirati origin. The remaining 30% hails from 31 countries including Germany, India, Lebanon, Morocco, Romania, Russia, Seychelles, and Turkmenistan, to name just a few. "Despite being predominantly local, our student body is growing, not only in numbers, but in the multitude of nationalities side-by-side with the community we serve," commented School Director Mr. Mohammad Jubran. "It never ceases to amaze me how ISC-UAQ succeeds in bringing individuals with so many cultural differences together into one cohesive, tolerant, and unique school community."
In celebration of the origins of their student body and their host country, it is no surprise that the U.A.E. National Day is a big event at ISC-UAQ! The entire school community participated in a day packed with fun activities associated with the U.A.E.'s heritage and culture including a military parade, a falcon show, traditional dances, and art. Even the youngest Kindergarten students enjoyed numerous, age appropriate activities such as face painting, jumping castles, and eating popcorn and traditional sweets!
Student Life
ISC-UAQ students, despite their relatively young age, lead an active and engaging student life and participate in every aspect of their community, helping their fellow students excel academically, creating a welcoming environment, organizing fun activities, and raising awareness about important issues related to health.
On an academic level, ISC-UAQ students learn to take an active role in their education and the education of others. This is particularly apparent in SLO® Peer Tutoring and Shadow Teaching® programs. Students who master particular subjects regularly volunteer as peer tutors or Shadow Teachers®, which allow them the opportunity to teach their fellow classmates either on a one-to-one basis, as in the case of peer tutoring, or by teaching an entire class as a Shadow Teacher®.
Watch this amazing video where two ISC-UAQ students share their peer tutoring experience!
The school also organizes a number of academic-related activities. These have included themed weeks and special event days throughout the school year. A couple of examples of themed weeks include the Arabic and English Reading Week, where students from grades 6 and 7 took the time to read to younger students. Teachers also gathered their students in break times to read books in English, Arabic, and French. Another successful event was Science Week, where students learned more about the earth, planets, and global warming. Together with their science teacher, they performed experiments and learned to appreciate the magic world of natural science. Last, but not least, a First Aid Awareness Week allowed the students to learn about basic first aid skills from a medical professional who visited the campus.
Beyond academics, SLO® prefects, with the strong support of teachers and staff, successfully organize a number of fun activities and events throughout the school year. So far, they have held a teddy bear picnic; Character Day, where students came to school dressed as their favorite characters; music shows; sports days; and a recycling fashion show, where students in grades 4-7 showcased their hand-made, recycled dresses, shoes, hats, tops, pants, and even handbags!
"The SLO® taught me to have confidence. I feel like it's my home and I can be me."
– Salem Al Ali, Grade 7
"To be part of the SLO® is fun and it makes me happy to be active. SLO® has changed my life. It makes me a better person and they teach me to care for others."
– Alya Al Shamsi, Grade 7
"I like SLO®. It is fun and all students feel included."
– Rama Hasan, Grade 5
In addition to academic and event-focused activities, the SLO® prefects are dedicated to creating a school environment that is welcoming, happy, and positive. To this end, the SLO® planned and celebrated Happiness Week, Mother's Day, Appreciation Day, and Crazy Hat Day.
ISC-UAQ also offers students a rich mix of extracurricular activities including ballet, football, and gymnastics. This academic year, five students in the ISC-UAQ Gymnastics Club participated in the First Emarat National Rhythmic Gymnastics Championship held in Dubai in November 2018. The students brought home two gold medals, two trophies, and three silver medals. Two Special Awards were also presented to Farah Subhi and Nour Ahmed. What an outstanding achievement!
And if all of this were not already enough, there are various SLO® clubs that are set-up and run by SLO® prefects with the support of their teachers. These clubs include art, football, music, chess, coding, and fishing. Check out this photo of a young student teaching his friends how to fish in the SLO® Fishing Club.
With a brand new campus and a decision to grow into a full K-12 school, the ISC-UAQ community has a lot to be excited about! Thanks to the top-quality education, diverse student body, and wide range of extracurricular activities and clubs, it is no surprise that parents and students are delighted that they can remain at ISC-UAQ up through graduation. We wish the school continued success and look forward to meeting the first graduating class of ISC-UAQ!
To learn more about ISC-UAQ, visit their website iscummalquwain.sabis.net or follow them on Facebook.