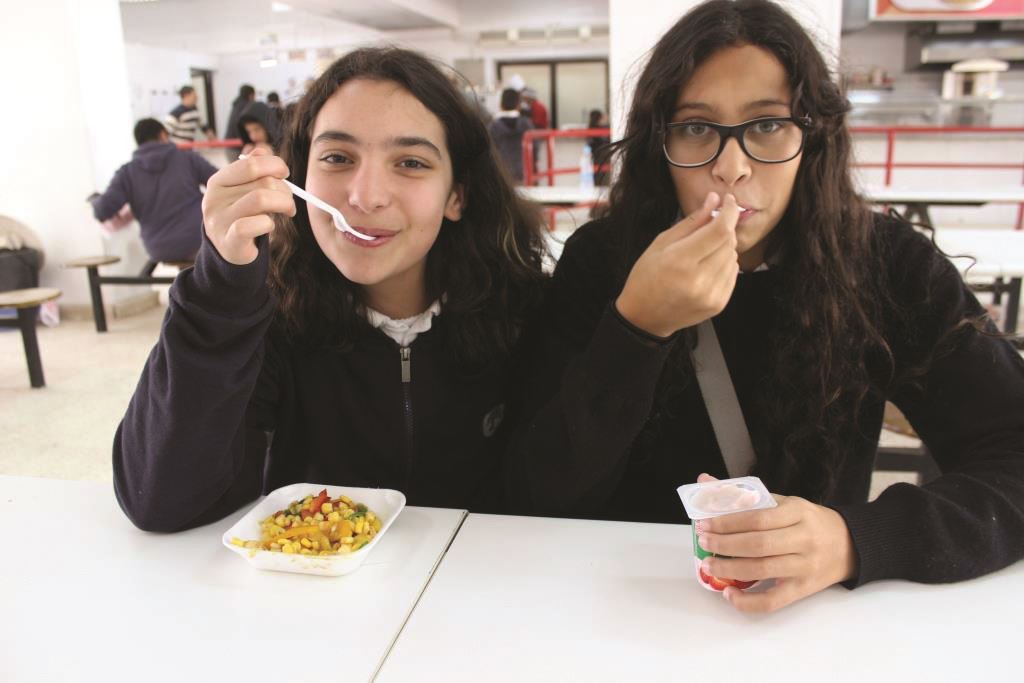 The SABIS Student Life Organization® (SLO®) is an integral part of daily life in each and every SABIS® member school. With 8 departments that cover a wide range of areas such as academics, discipline, and activities, SLO® offers something for every student.
One of the 8 SLO® departments underwent an important change at the beginning of the 2013-14 academic year. The Sports Department was expanded to integrate the concept of health into the department. It is now known as the Sports and Health Department.
Precipitating the change was the prevalence of studies showing that students today tend to eat less healthy foods, consume more sugar, and engage in less physical activity than students a generation ago. So, in response to these trends, SABIS® felt the need to address the issue with a serious counter-plan.
"Sports and health go hand in hand," explained Mr. Roger Soweid, SABIS® Corporate Director – Student Life and Student Management. "In today's world, children are increasingly exposed to unhealthy lifestyles and we felt it was important to increase awareness among our young students about the importance of leading a healthy lifestyle and making healthy choices on a daily basis."
The SLO® Sports and Health Department focuses on the importance of physical education and leading a healthy lifestyle. It aims to teach students how to take care of their bodies by blending physical activity with a balanced diet and encourages them to participate in physical activities and events organized at school. The Sports and Health Department promotes the importance of healthy eating, good hygiene, laughter, reading, and building a strong and active social network as a means to live a healthy lifestyle. The department also creates awareness among students about the negative impact of smoking, substance abuse, alcohol use, and passive activities such as video games, Internet surfing, and excessive television exposure on a healthy lifestyle.
The Sports and Health department's mission statement – "Foster an appreciation for sports and healthy/habits lifestyle while encouraging students to get and stay in shape" – summarizes the department's values and implements the change.
A number of SABIS® member schools worldwide have already seen a change in their students' attitude toward health since the department was renamed. In addition to organizing a hygiene workshop, prefects at the International School of Choueifat-City of 6 October (ISC-City of 6 October), in Egypt, met with the Cafeteria Manager to review the cafeteria menu and discuss the option to offer healthier food choices.
"The Sports and Health prefects have made a wonderful effort in promoting sports fun at school," reported Nora Abd El Aziz, SLO® Coordinator at ISC-City of 6 October. "I believe one of their greatest achievements was improving the food served in the cafeteria."
At the International School of Choueifat-Doha (ISC-Doha), in Qatar, prefects informed the students of the importance of a healthy lifestyle through posters, advising class, and physical education class. Another initiative that the school took was to ban junk food on the premises. "The [Sports and Health] Department emphasizes that maintaining a healthy lifestyle does not simply mean exercising regularly, but also means combining eating healthy, exercising, and getting enough sleep," stated Khalil El Temsah, SLO® Coordinator there.
The development that has taken place in the SLO® Sports and Health department reflects SABIS®'s commitment to offer students a well-rounded education that remains up-to-date with the challenges that face the youth of today.
For more information about the SABIS Student Life Organization®, visit sabis.net.