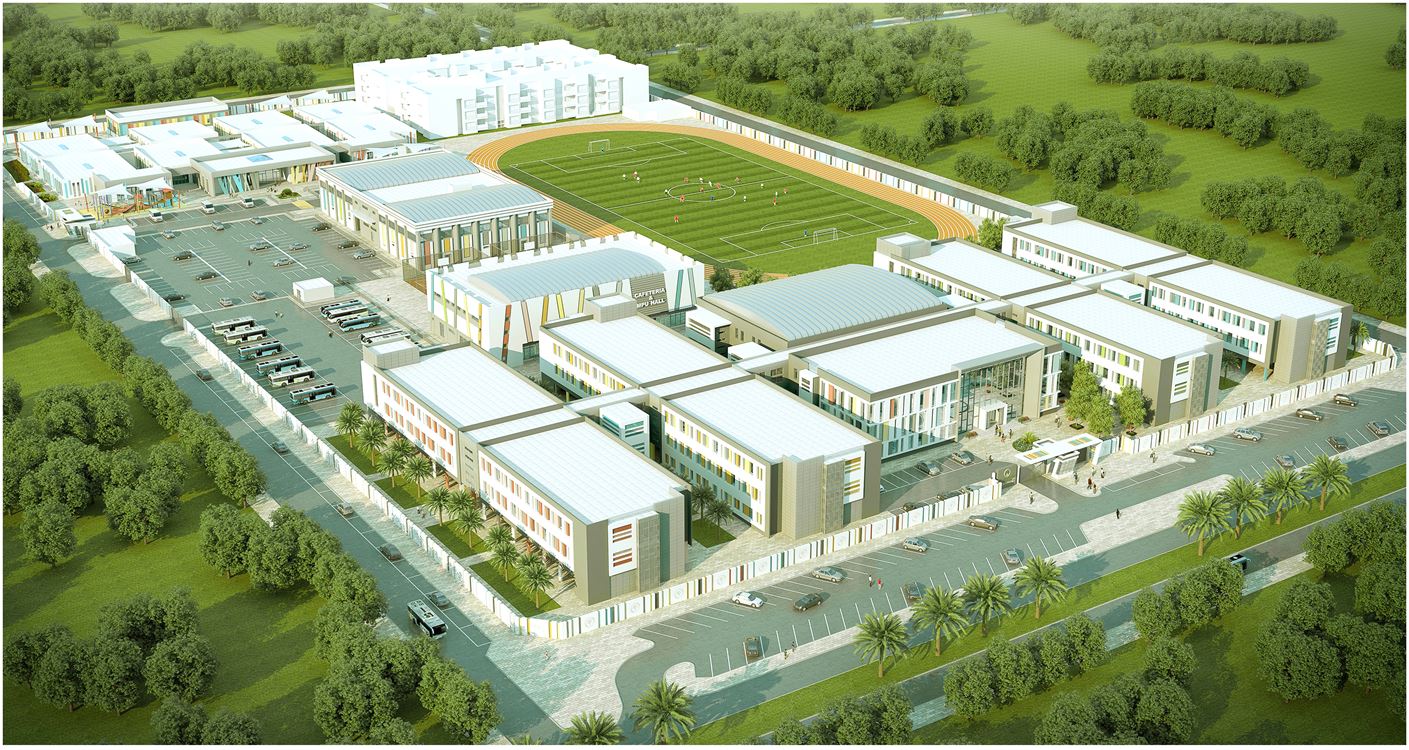 The International School of Choueifat – Ajman is located in the emirate of Ajman, the smallest of the seven U.A.E. emirates, just 2 km north of Dubai. ISC-Ajman opened its doors at the start of the 2016-17 academic year, welcoming students in Kindergarten through Grade 6. At the start of the 2017-18 academic year, the school opened grades 7 and 8 and plans to add an additional grade each year until it reaches a full K-12 offering. Today, in only its second year of operation, ISC-Ajman welcomes over 400 students from 38 nationalities.
A State-of-the-Art Campus
ISC-Ajman is located on a purpose-built campus of 70,000 square meters. It offers state-of-the-art facilities including spacious classrooms, science and computer laboratories, and a library, as well as a theater that can accommodate close to 500 guests and a cafeteria that serves nutritious hot and cold meals. The school also boasts extensive sports facilities including a semi-Olympic-sized swimming pool, an indoor multipurpose court, and an Olympic-sized soccer field surrounded by a running track.
"The staff and teachers are warm and friendly. The campus is awesome. My daughter is happy and learning, and that in my view makes this school special."-- Michelle Cangas, ISC-Ajman mother
ISC-Ajman also caters to the specific needs of its younger students. The Kindergarten Department is an independent unit with its own cafeteria, indoor swimming pool, multipurpose indoor playrooms, and a special KG car track.
A Top-Quality, Trilingual Education
Like all SABIS® schools, ISC-Ajman implements the SABIS® Educational System™, a comprehensive and challenging academic program that helps students develop a solid foundation of knowledge and skills, a love of lifelong learning, and the ability to adapt to change. The SABIS® curriculum, coupled with SABIS® proprietary books in traditional and E-format, teacher support material, and effective school management systems, ensures that ISC-Ajman delivers the same high-quality program delivered by all other SABIS® schools in the region.
When ISC-Ajman first opened, it accepted students from non-SABIS® schools in the area as well as international students who had recently moved with their families to the U.A.E. The main challenge this posed was in integrating students with various degrees of language fluency. Through the SABIS® Accelerated English Program, the school was able to bring English language learners up to the required academic level in less than a year.
While SABIS® schools around the world offer students a bilingual education – English is the language of instruction and the language of the host country is taught daily as a world language – ISC-Ajman is one of a handful of SABIS® schools that offer a trilingual education, teaching in English, French, and Arabic. The success of the trilingual program was evident at the end of the 2017-18 academic year when ISC-Ajman students in grades 5 and 6 wrote and put on a short, trilingual, original comedy!
An Active and Engaging Student Life
From a very young age, students at ISC-Ajman enjoy an active and engaging student life through the SABIS Student Life Organization® (SLO®). Students are involved in helping to raise academic standards as well as in organizing several clubs and activities.
On an academic level, ISC-Ajman students are active as Shadow Teachers® and peer tutors. Students who volunteer or are selected by their teachers based on performance have the opportunity to become Shadow Teachers® and assist their teachers by taking the lead in presenting material in class after receiving training to do so. ISC-Ajman has Shadow Teachers® in every subject and grade level from Grade 1 through Grade 8. Additionally, Shadow Academic Quality Controllers (Shadow AQCs) record the time that each Shadow Teacher® spends in front of the classroom and award SLO® points based on their efforts. Students also volunteer as peer tutors to help others better understand subject matter in English, science, and math.
Beyond academics, SLO® has had a big impact on ensuring every student feels included and welcome. Student prefects contribute to creating a socially-responsible community of learners in which [every individual can reach his or her full potential. This year, SLO® Prefects also organized "Health & Nutrition Week." Throughout the week, prefects gave advising sessions, organized healthy activities, and distributed fruit salads to all the students, teachers and admin staff.
"SLO® is all about helping each other. It makes the school a happy and caring place. It teaches us about respect for ourselves, each other, our teachers, and the school. It also keeps us safe and stops bullying." – Yayha Inchassi, Grade 2
"SLO® and its prefects always have a solution to any problem that we might face. Our team of prefects help resolve problems to do with academics, personal issues, and bullying as well as many other things." – Aleena Kashif, Grade 6
Extra-Curricular Activities and Events
In addition to an active student life, ISC-Ajman students enjoy a wide range of extra-curricular activities including ballet, gymnastics, art club, photography, music, coding, and chess, among others. This year, the school hosted a number of regional events. In April 2018, ISC-Ajman hosted the Inter-SABIS® Under 13 Girls' Basketball Competition, welcoming 50 players from four SABIS® Network schools in the U.A.E. The school also welcomed 250 little, budding ballerinas from nine SABIS® schools in the U.A.E. for the SABIS® Regional Ballet Competition.
At ISC-Ajman, the entire staff is dedicated to the well-being of each and every child, ensuring that both their academic and personal development needs are met. Students develop critical thinking and leadership skills, courage and strength of character, and a healthy engagement with their community. They are given every opportunity to grow and develop essential interpersonal and leadership skills and are ready to take on life equipped with a solid foundation of knowledge, a love of lifelong learning, and the ability to adapt to change.
If you would like to find out more about ISC-Ajman, visit iscajman.sabis.net or call the school (+971 6 742 1111) to book a tour.