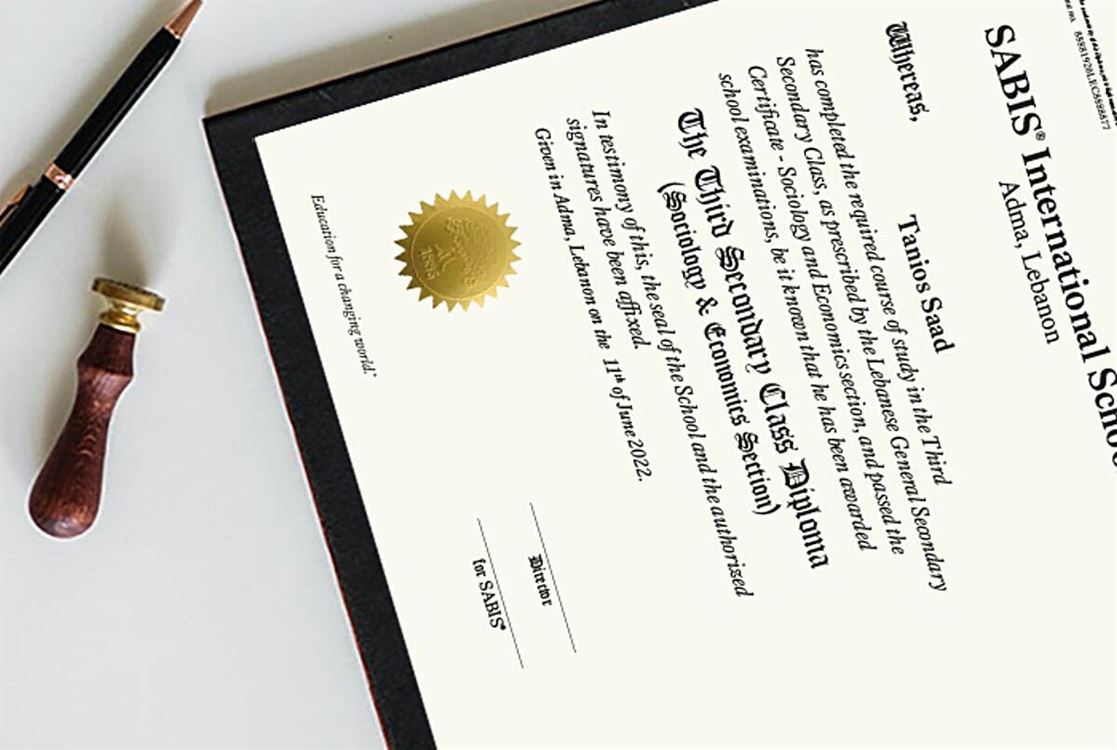 At the end of every academic year, thousands of students in SABIS® schools around the world are awarded their well-earned diplomas at graduation. And for over 130 years, SABIS® has traditionally issued these diplomas on paper to its students. Today, SABIS® diplomas have undergone a total transformation and students will benefit from a traditional paper diploma as well as a digital one!
For the 2019-20 academic year, SABIS® schools started offering their students immutable digital diplomas that are protected using the blockchain technology – a record-keeping technology that offers a secure way of making and recording transactions through a chain of blocks (digital information) stored in a database known as the chain and shared over a verified network.
In line with this, a new SABIS® Digital Diploma platform has been developed and implemented at SABIS® schools to automate the generation process of the diplomas, which has to go through various phases of validation to be digitally signed by the key parties, securely issued, and delivered to the students. The platform offers great advantages including increased accuracy, automated process and notification sending, maximized time efficiency, minimized errors, and reduced cost.
The platform is designed following SABIS®'s high data security standards. The architecture includes multiple security layers where fraudulent activities are near impossibility as the platform is trusted, secure, and requests instant authentication. Besides, the data is centralized and backed up and all transactions are digitally archived, logged, and tracked.
All SABIS® High School Diplomas will be stored, updated, authenticated, verified, and shared on the new SABIS® Digital Diploma platform. "Automating the SABIS® high school diploma is an important step towards enabling every SABIS® graduate to digitally access their diplomas. Inspired by the blockchain technology, the SABIS® Digital Diploma platform securely stores sensitive and confidential data records and automates the process of digital signatures while verifying the authenticity of the certificates being issued. This adds great value to the SABIS® higher education," commented Mr. Serge Bakhos, Group Vice President – Information Technology and Digital Publishing.
For students, the benefits go beyond innovation. They can share their diplomas with whomever they please and at no cost. This is particularly important for students as they have a convenient, digital proof of their SABIS® diploma when applying to university or for a job. Using the SABIS® Diploma Verification platform, universities/employers can very easily verify that the diploma is legitimate without contacting the school's registrar office. Further to this, SABIS® graduates can easily and securely access their diploma online by accessing the SABIS® Digital Diploma platform and soon, they will be able to share their achievement on selected social media platforms.